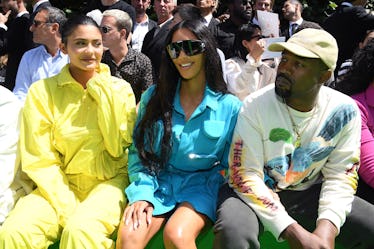 Kylie Jenner May Have Teased Another Beauty Collab Between Her & Kim K, So We Are Truly Blessed
Pascal Le Segretain/Getty Images Entertainment/Getty Images
I still remember my skepticism way back in 2016 when I first heard that a young Kylie Jenner would be launching her own cosmetics company. Two years and a few empty lip kits later, I take it all back. There's no denying that Jenner knows her stuff, and she sells out practically every new launch as a result. Major respect. So when her sister, the iconic Kim Kardashian-West, launched her own beauty line by way of a Kylie Cosmetics x KKW Beauty collaboration, I was eager to see it flourish, and it did. But is another collaboration in the works? Well, it seems likely from the looks of Kylie's Instagram.
Now, just a year after KKW Beauty began, both sisters are running successful companies featuring products aligned with their own personal beauty preferences. I know to hit up Kylie Cosmetics for a statement liquid lippie, like my beloved "22" Matte Lip Kit ($29, kyliecosmetics.com), a vibrant, summery orange shade. On the opposite end of the spectrum, I turn to KKW Beauty to sculpt my cheekbones for my Kim-inspired selfies on Instagram, using her original Crème Contour and Highlighting Kit ($48, kkwbeauty.com)
Both brands have since expanded well beyond their hero products, but perhaps one of their most noteable launches to date was the collab between the two. It served as not only Jenner's first collaboration and non-matte lipstick formula, but also as the catalyst of the KKW Beauty empire itself. We're talking beauty history, people! With four nude shades and a crème liquid lipstick formula, the Kylie Cosmetics x KKW Beauty collaboration set ($45, kyliecosmetics.com) was born, and it was so, so right.
I'm a huge fan of both the packaging and the fact that each lippie was named after Kardashian herself ("Kimberly," "Kim," "Kimmie," and "Kiki" — I can't), so this collection remains one of my favorite items in either brand's arsenal.
So when Kylie posted this photo on Instagram on Monday, July 2, asking who wanted another Kim and Kylie collab, I nearly lost my cool:
"Who wants KKW X KYLIE round 2?" the caption reads. I'm freaking out. Cue me, speechless.
Of course, nothing's been confirmed just yet, but in the Kardashian-Jenner world, an Instagram caption is a pretty good indicator, no? Is it possible a round two collab is really in the works? Am I overthinking this, and did she just want to throwback to a photo where she looked hot? Who knows? I mean, we've all done it!
While it has definitely been interesting to see each brand grow separately, with Jenner experimenting in colorful palettes and blinding highlighters and Kardashian giving us all the tools we need for airbrushed skin, I personally feel a reunion is long overdue. Both women are at the top of their game right now, with Jenner juggling a newborn and tons of new releases, and Kardashian wrapping up her very first pop-up shop in Los Angeles.
Even with all that going on, they're both still making time to be glam as hell, so who says the secret to their current looks isn't a new collaborative product coming soon?
Neither Jenner nor Kardashian are strangers to a good collab. Kylie Cosmetics has dedicated entire collections to her sister Kourtney and her mom Kris, as well as a two-part collection with her sister Khloé. KKW Beauty has partnered with Kim's makeup artist and BFF Mario Dedivanovic on a full collection, as well as Glam Masters winner Argenis Pinal on the Crème Color Sticks ($18, kkwbeauty.com)
While I'd be happy to see this rumored collab become a reality — and you best believe I'll be checking both of their Instagrams regularly and keep you posted — for now, I'll have to content myself with all the other products this family has already convinced me to buy. Honestly, no regrets.