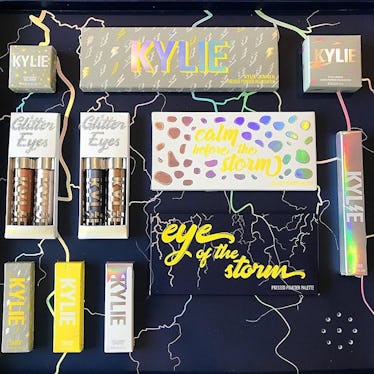 Kylie Jenner Created An Entire Makeup Line During Her Pregnancy & Every Piece Drops Today
@kyliecosmetics Instagram
There's nothing I love more than a Southern storm. It's over relatively quick and the sun still shines. Today, Kylie Jenner is about to top every storm I've ever experienced with her latest makeup drop. But how much does Kylie Cosmetics' The Weather Collection cost? Before you enter this storm, it's best to take a long look at the forecast.
One would think that another Kylie Cosmetics drop would be normal at this point, especially since the reality TV star churns out collections faster than a rainbow forms after a storm. Alas, when Kylie J went on Instagram stories to announce that "something was coming," everyone waited with baited breath, thinking a fresh Lip Kit was brewing. No one expected an entire makeup line. With The Weather collection, Jenner is launching a highlighter palette, two shadow palettes, three lipsticks, two Glitter Eyes duos, a gloss, an Ultra Glow, and an eyeliner.
The new mom had plenty of time to create the line while remaining hidden from the world during her pregnancy, but I was still floored. This collection is going to be so major, and I can't wait for Jenner to take all of my money. Overall, the line is pretty affordable, but you're going to want a majority of the pieces. I promised myself I would start being more responsible with my money in the new year, but it's still February, so maybe I'll enforce that come March.
The Weather Collection Highlighter Palette
Laced with four shades ("Cloud 9", "Stratus", "Daydream and "Golden Hour"), The Weather Collection Highlighter Palette ($44, kyliecosmetics.com) is stunning. These are the shades I dream about when I think of the saying "highlight on fleek." I can't wait to see if these shades can double as an eyeshadow color, but I bet it's a strong gust of yes.
The Eye Of The Storm Palette
Boasting ten shades, the Eye of the Storm Palette ($40, kyliecosmetics.com) features moody, metallic shades, and neutral colors. This palette is so versatile that you can go from day to night in a breeze. Although I tend to steer towards neutral shades, the yellow and midnight blue colors are calling my name.
The Calm Before The Storm Palette
With ten super-saturated shades, the Calm Before The Storm Palette ($40, kyliecosmetics.com) offers both matte and metallic finishes as well. The pastel colors are definitely going to be a hit, considering that pastels are such a huge trend for 2018.
Three Matte Lipsticks
The Matte Lipsticks ($18, kyliecosmetics.com) continue to stay on theme with tiny lightning bolts etched into the creamy formula. The colors are called Nightfall (pitch black shade), Cosmic (beige/pink shade) and Nova (rosy nude). Thanks to the striking contrast between the colors, the troika will create some killer lip art.
Glitter Eyes Duo
The Glitter Eyes Duos ($40, kyliecosmetics.com) are bold, metallic, liquid shadows that can be used alone, or on top of other shadows. In one of the duos, the colors are Superstar (champagne) and Twinkle Twinkle (rose gold). In the second duo, the shades are Destiny (bronze) and Violet Moon (ultraviolet). These duos are liquid gold in a tube and will look stunning on nearly all complexions.
The Flash Glitter Gloss
The Flash Glitter Gloss ($16, kyliecosmetics.com) is a glittery chrome lip gloss that I can not get enough of. At first look, it comes across as bubblegum pink, but if you look closer, you can see the reflection of purple and blue. You can wear this gloss alone, or on top of another lip product to maximize the effect.
The Lightning Bold Ultra Glow
I'm just as interested to see the Lightning Bolt Ultra Glow ($14, kyliecosmetics.com) on the skin as all of the other Kylie Kings. This product should be used to create an all-over glow. I can't wait to see a beauty guru try this out, because I'm dying to know what this looks like over real skin. Apply it to the areas of your face where you want the light to hit.
If you're ready to splurge, the entire collection will cost a cool $280. At first, that number is a bit of a shock. Like more shocking than a tropical depression rolling in, but there's a ton of quality products in this drop. If you're looking to save some coin, you can pick up key products piece by piece. Here's to weathering this storm in style.