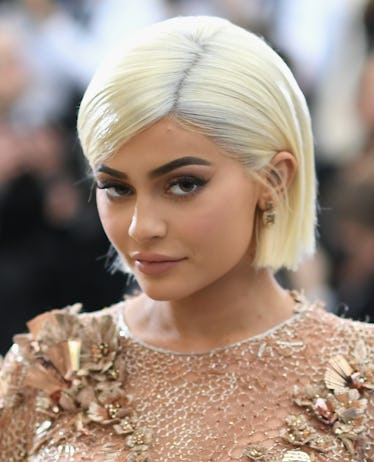 Kylie Jenner Is Dropping Makeup Dedicated To Daughter Stormi, So Someone Hand Me A Tissue
Dimitrios Kambouris/Getty Images Entertainment/Getty Images
There's about to be a new eyeshadow palette in town to blow all others out of the water. Featuring five colors in both their matte and metallic forms, it's all you'll need to create a vividly textured look. How Much Is Kylie Cosmetics' Calm Before The Storm palette? If the brand's past drops are any indication, a very reasonable amount. However, Kylie Jenner is dropping way more than one palette. In fact, she's dropping an entire line of weather-named products inspired by the perfect Storm(i).
When Jenner announced via social media yesterday that she was dropping a new collection, the internet reacted with a mixture of elation and "Awwww's!" Yes, the products themselves look expectedly stellar, but the fact that Jenner's daughter Stormi served as major inspiration for them all makes them that much better. Being welcomed into the world with an entire makeup line made with you in mind? Jealous.
Seeing as Stormi is only a month old, Jenner was clearly working on the line while pregnant; a beauty storm was brewing while Stormi was brewing. Bad joke? Bad joke. "I spent a lot of time on this collection, and I put a lot of detail into it," Jenner shared on Kylie Cosmetics' Instagram Story. "So I'll do my best to try to show you guys all the fun details."
First up to be revealed were three new shades of her classic lipsticks, the original shades of which were briefly sold out before being restocked just this morning. The fresh hues boast a new matte formula, and the lipstick bullets themselves are engraved with mini lightning strikes. There's Nightfall, which is pitch black; Cosmic, a dark beige; and Nova, a rosy nude. Though the colors sit on opposite sides of the color spectrum, they make sense together within the context of the collection theme; a strike of lightning in a pitch black sky can take on a peachy hue.
The next sneak peek was of uber shimmery cream shadow duos called Glitter Eyes. One duo offers Superstar (champagne) and Twinkle Twinkle (rose gold), while the other includes Destiny (bronze) and Violet Moon (ultraviolet). Jenner posted swatches of the shades to her Instagram stories as well as an image of herself wearing Violet Moon and honestly, the rule. Creamy, opaque, and shockingly shimmery, they are what liquid metal dreams are made of.
The two palettes, however, just might give the cream shadows a run for their money. Featuring shades called "Sweet Storm," "Starbaby," and "Moon & Back," it's clear they're filled with colors named in honor of Stormi. Jenner even added a hue called "Aquarius," which is Stormi's zodiac sign. The first palette, Calm Before the Storm, is the more subdued of the two, though I certainly wouldn't call it subtle. It includes 5 colors but in both their matte and metallic versions, meaning fun color combinations are endless. (I love a smoky eye done with a matte center and metallic corners.)
The second palette, called Eye of the Storm, is filled with much darker and bolder shades. From an ultraviolet metallic to a shimmery midnight black to a shockingly bright yellow, they remind me of the colors found in Hulk and Batman comic books. "BANG!" they seem to say.
Although product prices haven't been released yet, I assume they'll run pretty close to what items in previous drops have gone for. The palettes should run around $40 and the lipsticks around $17, though the shadow duo pricing remains a mystery. The collection will arrive on Feb. 28th at 6 p.m. EST and 3 p.m. PST, so you don't have long to wait, anyways — just make sure you're at the Kylie Cosmetics website and ready to load your cart as soon as products become available because they'll likely sell out quickly.
If you've been saving up for a rainy day, now's the time to dump out that piggy bank and splurge. Jenner's first makeup drop post-pregnancy dedicated to her adorable daughter? This is going to go faster than I grab an umbrella after a blowout.