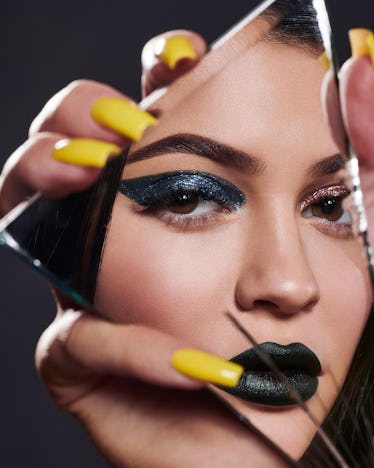 Kylie Cosmetics' "The Weather" Collection Is About To Drench Your Face In Electric Pigments
@kyliecosmetics Instagram
Break out your umbrellas and pack your rubber Hunter rain boots. If you're not yet wondering when Kylie Cosmetic's The Weather Collection drops, you will be after you see the amazing new products. The weather forecast is in, and as your Chief Meteorologist, I recommend that you get ready. This makeup collection is going to cause some serious damage to your pockets.
In the case of most storms, fans of Kylie Jenner were not ready when she mysteriously took to Instagram to tease that something big was brewing. For over 24 hours, the Kylie Kings twiddled their fingers, waiting to hear further updates until Jenner swept through Instagram with full force. I totally underestimated what was coming, but after setting my eyes on the holographic-packaged collection dedicated to her brand new baby daughter, I don't even know how to prepare for this storm.
Inspired by her newborn baby Stormi, the collection is comprised of matte lipsticks, glitter eyeshadows, lip gloss, highlighter and eyeshadow palettes. Friends, I'm shook, to say the least. One thing I love about Kylie Cosmetics is that they always showcase the makeup line on Instagram, through a variety of pictures and videos. The hype is totally real.
"I worked on this pretty much my entire pregnancy," Jenner said in a video shared to her Instagram Story. "Right after we chose Stormi's name, her name really inspired me. I spent a lot of time on this collection and put a lot of detail into it... So I'll try to show you guys all the fun detail."
This storm is going to be wild and I'm honestly not sure how to prepare. It juxtaposes both dark and light spring elements. Although the dark elements look cool, it's the spring shades that are getting me excited for this launch.
You can tell a lot of time and detail went into this collection. The packaging is storm inspired, with lightning and clouds imprinted onto bright yellow and silver boxes. If that wasn't enough, there are lightning bolts engraved into the new lipsticks. The three new matte formula lipsticks are called Nightfall (black shade), Cosmic (brown shade), and Nova (pink shade). The colors are bold neutrals, and create the electricity of a lightning bolt when lined up in a row. But beyond that, I think Jenner really wants us to get excited over the palettes and glittery eye duos.
Jenner will be releasing two sets of glittery eye duos. Remember when 2 Chainz said "bury me inside the Gucci store"? Well, I publicly declare that I need to be buried in these sparkly liquid eyeshadows.
One set features a shimmery gold formula called Superstar and a pink called Twinkle Twinkle. The other duo features a brown color called Destiny and a blue called Violet Moon. As your Chief Meteorologist, I highly recommend you get your hands on the duo that has blue Velvet Moon in it. A video doesn't do it justice, but KJ, I can totally see that duo-chrome effect on my screen. This is going to be a staple during the spring and summer months. Then as fans head into the colder months, you can switch them out for the gold and pink formulas.
The palettes are what I can't fully process. Seriously, look at those colors! Each collection is laced with some of the most dynamic, unexpected colors I've seen in a while, and I'm crossing my fingers that the pigment is just as bold as it looks in the photos.
One thing I've noticed in the makeup world is that the beauty-obsessed are gunning for bright, bold colors heading into the spring and summer. Enter Jenner's vivid yellow and sparkle-packed purple.
The Calm Before The Storm palette is hands-down my favorite product launch in this upcoming collection. Those colors are stunning, especially the pewter and metallic rose gold.
The Weather Collection will arrive Feb. 28 at 6 p.m. EST and 3 p.m. PST. In the meantime, I'm going to batten down my hatches. I think this is going to turn into a Category 5 hurricane.