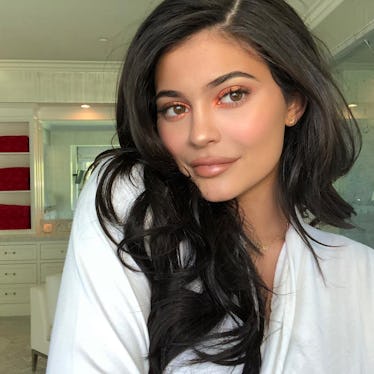 Kylie Jenner Is Already Planning Stormi's 1st Birthday Party & Of Course, It Sounds Lit
Instagram/KylieJenner
Can you even believe that Kylie Jenner has been a mom for nearly half a year already? Little Stormi has been on this earth for 5 months this coming weekend, and I can't believe how quickly time has flown by. And, like almost every other mom, Jenner is looking into the future by getting the ball rolling on planning Stormi's first birthday. And let me tell you, Kylie Jenner's plans for Stormi's birthday party sound pretty lit, and I feel a little weird for saying that I'm officially jealous of an infant. But c'mon, you *know* that Stormi's first birthday celebration is going to be off the chain, so don't even play.
Jenner filmed a Snapchat video while she was en route to Khloé's birthday party and talked about how the fact that Stormi is nearly 5 months old was really "tripping her out." Time flies when you're raising a perfect little angel baby, Kylie!
In the video, we see Jenner (using the ~Aloha~ themed filter) telling her fans, "Stormi is going to be 5 months this weekend, which really is tripping me out. That means we're halfway to a year… almost. And I'm already thinking about her first birthday and how it's going to be epic."
I mean, obviously. There's not a single Kardashian soirée that doesn't seem epic. But girl, we want the deets! What kind of party should we be expecting? Teddy bears? Disney princesses?
LOL, nah. Kylie had an idea, but some of the Kardashian children had the NERVE to have already taken it, so she's on the lookout for a different theme. She said, "I was going to do super magical unicorn theme but North and Penelope beat me to it, so I have to think of something else."
I mean, how dare they?
For those of you who are wondering, North and Penelope had a joint Unicorn-themed birthday party earlier in June, which Kim Kardashian documented to her Instagram Story, showing fans the two children rocking unicorn horns and matching party decor. Some kids have all the luck, man.
After Jenner's videos about Stormi's birthday party plans, she also shared a video of her with Stormi — only we only got to see a tiny piece of Stormi's adorably chunky arm and an itty-bitty piece of her squishy cheek:
We'll take what we can get from the beauty mogul, considering that, on June 10, Kylie Jenner deleted all of her Instagrams of Stormi except for a few images that didn't feature her daughter's face.
At first, many fans were concerned and were wondering the reason behind the sudden deletion. One user commented, "she cUT HER BABY OUT," causing Jenner to reply and set the record straight. She responded, saying, "Yeah I cut my baby out. I'm not sharing photos of my girl right now."
But before you start thinking of a million reasons why Jenner came to that decision, a source reportedly told People that it was because social media users were making "nasty comments" about Stormi. The source told the publication:
Kylie felt so protective of her baby when she was pregnant. This is why she didn't share any bump pictures while she was pregnant. After Stormi was born, Kylie was the proudest mom... She couldn't wait to show off Stormi to her fans. She posted pictures, because she was so excited to be a mom. Unfortunately, social media is a crazy place.
The insider continued, saying, "Kylie is shocked and doesn't want her daughter's pictures to be a part of something negative. She might reconsider in the future, but for now, she won't post any more photos of Stormi's face."
A big thanks to all of those who decided to write negative things about a beautiful little baby. Look what you've gone ahead and done. Hope you're happy!
I'm praying that by the time Stormi's first birthday party rolls around, Kylie will allow the rest of the world to be a part of the festivities on social media. We know that it would be Stormi's big day, but that would be the best gift for us so, Kylie, please make it happen?