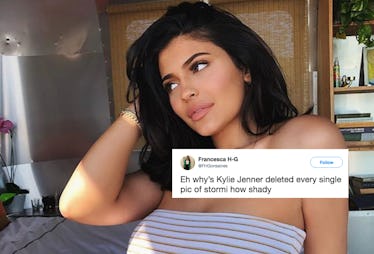 Kylie Jenner Deleted All Of Her Instagrams Of Stormi & Fans Are Concerned
Kylie Jenner on Instagram/Twitter
There's something going on with Kylie Jenner's Instagram, and we need to talk about it. As of Sunday, June 10, Kylie Jenner deleted all of her Instagrams of Stormi and no one has any idea why. The only photos left of Stormi on Jenner's Instagram are ones that don't show the baby's face. Fans were loving Jenner's post-baby social media presence that included the new mom posting photos and videos of her 4-month-old daughter pretty frequently, but Jenner has apparently decided not to share photos of Stormi anymore and fans are confused.
Jenner posted a makeup-free selfie to her Instagram on Sunday, June 10, and you can see baby Stormi almost peering into the shot. People commented on the photo saying they were shocked Jenner cut the baby out of the photo. They thought it was more of a "Stormi, you're ruining my shot" kind of thing, but Jenner herself responded to one person's comment to set the record straight.
One person commented, "she cUT HER BABY OUT," and Jenner responded, "Yeah I cut my baby out. I'm not sharing photos of my girl right now." Clearly, this was a deliberate choice for the sake of Stormi on Jenner's part, and not Jenner worrying about her baby ruining a photo (that could literally never happen since that baby is too damn cute).
This is the photo in question.
Fans are concerned and confused as to why Jenner would suddenly decide to delete all photos of her daughter's face from Instagram.
Some are worried that Jenner feels her daughter has been attacked on social media and that's the reason behind her removing the photos.
There are some on Twitter who are theorizing that she deleted the photos because of the people who think Stormi's biological father is Jenner's bodyguard and not Travis Scott.
Back in May, people on Twitter thought they saw a lot of similarities between Tim Chung, Jenner's bodyguard, and Stormi Webster.
The rumor intensified after paparazzi asked Chung about the rumors. Chung did nothing except grin and keep on walking. In the video, the smile looks to me like more of a smile of disbelief than it is a "hehehe, I'm the dad" smile. Elite Daily reached out to Jenner's team regarding the report, but did not hear back by the time of publication.
The theory that Chung is Stormi Webster's dad is pretty ridiculous since it's entirely rooted in speculation. Just because Stormi isn't the spitting image of Scott right now doesn't mean he isn't her father or that she won't have a closer resemblance to him in the future. Babies' faces change and grow so much in the first years of their lives. Stormi's going to look hella different come February 2019. Can everyone just chill?
The post was captioned, "My first and last comment," and said,
I am a very private person and would normally never answer to gossip and stories that are so ridiculous that they are laughable. Out of deep respect for Kylie, Travis, their daughter together and their families, I would like to set the record straight that my interactions with Kylie and her family have been limited in strictly a professional capacity only. There is no story here and I ask that the media no longer include me in any narrative that is incredibly disrespectful to their family.
Jenner also shut down the rumors herself after attending the 2018 Met Gala with Travis Scott. She posted a photo of her and Scott on the Met Gala red carpet and said, "Stormi's parents." Got it? Great.
I wouldn't be surprised if these rumors stressed Jenner out a lot and were at least part of the inspiration behind her decision not to share photos of Stormi. She spent all of her pregnancy hiding her news from the world so she could enjoy the precious experience without the pressures of fame, so I'm sure coming back into the spotlight with your baby in tow has been a difficult adjustment for the reality star. It's possible she doesn't want to share any photos of her baby because if there are fewer photos of her around, people won't be able to make up conspiracy theories about her parentage as much.
One thing people definitely don't have room to do is shame this choice of Jenner's.
Just because Jenner used to post lots of photos of her daughter and doesn't want to anymore doesn't mean her fans are owed anything. Jenner has every right to stop posting photos of her daughter, no matter the reason.