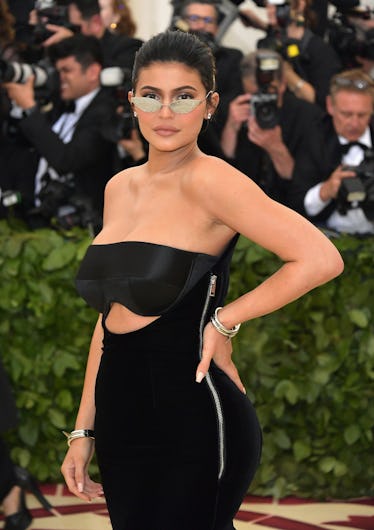 Kylie Jenner's Bodyguard Reportedly Responded To Rumors About Being Stormi's Dad
Neilson Barnard/Getty Images Entertainment/Getty Images
Today is an interesting day, folks. For those of you who absolutely love the little family Kylie Jenner has created with boyfriend Travis Scott and daughter Stormi, this next piece of news might make you uncontrollably angry. Jenner's former bodyguard, Tim Chung, was out on Thursday, May 10, celebrating his birthday, when the paparazzi asked him a very interesting question regarding little Stormi. And his response is making everyone say, "Is Kylie Jenner's bodyguard Stormi's dad?" Elite Daily reached out to Jenner's team regarding the report but did not hear back by the time of publication.
According to TMZ, Chung was hanging out at Delilah nightclub in West Hollywood when he was asked if he's heard the rumors going around that he was Stormi's father, and not rapper Travis Scott. The site claims that "people began noticing similar features between him and baby Stormi," which is what caused the pap to ask the question.
I know, I know. It sounds sort of bogus, and his immediate response should have been something along the lines of, ABSOLUTELY NOT, NOW PLEASE LET ME GO CELEBRATE MY BIRTHDAY IN PEACE.
Note that I said that's what his response *should have* been, because what it was is very different.
Instead of commenting anything at all, Chung just smirks, and laughs a little to himself for a solid 15 seconds.
I'm sorry, but what? You had all that time to simply dismiss the rumors, and yet you do nothing but smily coyly, which basically fuels the damn fire?
No. Nuh-uh. Not cool, man.
But you know what? I'm going to literally just ignore this report. Does not exist in my mind anymore, because those of us who love and support Kylie can see that her relationship with Travis Scott is all sorts of adorable. If you don't believe me, continue on, my dear friends, and I will prove it to you.
Exhibit A: Their relationship post-Stormi is in "the best place":
After having their daughter, a source told E! News that the Kylie Jenner and Travis Scott share an "unbreakable bond" and are beyond happy with where they're at in terms of their relationship. The insider reportedly said,
Kylie Jenner and Travis Scott are currently in the best place they have ever been in their relationship. Things really came full circle once Stormi was born and they now have an unbreakable bond. Travis has been fully accepted into the family and everyone is in love with their little family they created.
So... Tim Chung who? Sorry but... boy, bye.
Exhibit B: Kylie and Travis don't care about showing off their relationship 24/7:
What I love about this relationship is that they don't feel the need to post stuff every minute of every day about the other. In fact, Kylie Jenner and Travis Scott's first photo together after having Stormi was on Thursday, Feb. 15 — nearly two weeks after her birth. Scott posted a photo of himself and his lady on Snapchat (wearing surgical masks and captioning it with seemingly random letters, so IDK what was going on there — lack of sleep due to a newborn, perhaps?):
It's cute, but it's not in-your-face cute, if you know what I mean? It just feels like they're both super comfortable in their relationship, and I can totally appreciate that.
Exhibit C: Kylie and Travis made the cutest baby on the planet:
Look at those two humans. Do you see how effortlessly cool they are? Do you see how they could create one of the cutest babies of all time? Because they did. I mean, just look at her:
Nothing further. No more questions or comments. I simply rest my case.