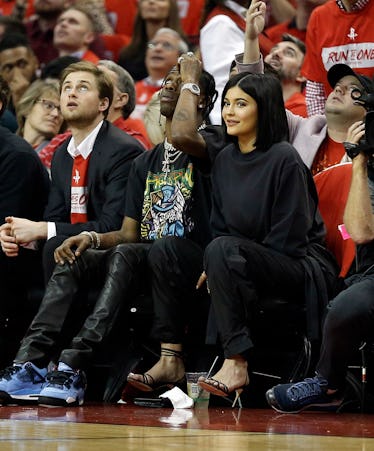 Kylie Jenner & Travis Scott's Body Language Post-Baby Says This About Their Bond
Bob Levey/Getty Images Sport/Getty Images
Body language can reveal quite a bit about the bond and connection in a relationship, and Kylie Jenner and Travis Scott's body language throughout the course of their relationship is no exception. Since they started dating in April 2017, there have been many reports about how well they work together as a couple and as parents, though Jenner and Scott don't live together yet and are reportedly still taking things slow.
Aside from reports, it's also easy to see how happy Jenner and Scott are — both to be together and to become parents — just by watching their birth announcement video, which Jenner shared on Feb. 4th (finally putting all those rumors to rest!). Throughout the video, the couple can be seen preparing for the arrival of their daughter, and being adorably affectionate with each other in the process.
While it seems like Jenner and Scott have been enjoying parenthood, it is worth noting that, as several moms pointed out in a piece in SELF, having a baby can change the dynamics of a relationship. So, since the couple hadn't been out and about together since before Stormi's birth, it was nice to see them go on their first date post-baby this week.