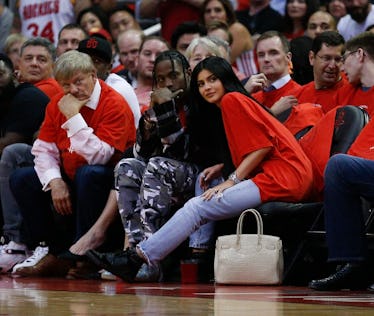 Kylie Jenner & Travis Scott Have Had An "Unbreakable Bond" Since Stormi's Birth
Bob Levey/Getty Images Sport/Getty Images
The status of Kylie Jenner and Travis Scott's relationship has been a bit of a mystery since they welcomed their daughter Stormi back in February. Sure, we've seen them together on Easter and a few other sporadic outings, but that doesn't really guarantee everything's kosher between the two. If you're anything like me and have been wondering what Kylie Jenner and Travis Scott's relationship post-baby has really been like, know that a source told E! News that the couple is doing better than ever.
On April 7, the source said that Jenner and Scott have built an "unbreakable bond" and are "in the best place" they've ever been since welcoming Stormi. The insider reportedly dished,
Kylie Jenner and Travis Scott are currently in the best place they have ever been in their relationship. Things really came full circle once Stormi was born and they now have an unbreakable bond. Travis has been fully accepted into the family and everyone is in love with their little family they created.
"Travis has been helping a lot with Stormi and is obsessed with her," the source continued. "He helps a lot at night and makes sure Kylie is getting enough sleep, and likes to spoil Kylie with gifts so she knows she is still important."
Aww! I adore their little family. It's great to see them both fitting into parenthood so nicely and having such an amazing bond with Stormi. Speaking of, when it comes to Jenner's parenting behavior, the source also told E! that Kylie has been "obsessed" with their daughter.
"Kylie can't believe how fast Stormi is growing up. She is obsessed with taking videos and pictures of her, and loves to dress her up in several outfits each day," the insider revealed. "Kylie does have help with two nannies but majority of her time is with the baby. She is a very hands-on mom and is super protective."
In February, another source told E! News that Travis "can't get enough" of his daughter either and likes to "stare at her" all of the time. The source said,
He [Travis] can't get enough and wants to just hold her [Stormi] and stare at her. It's still surreal for him that they created this [child]. He's working a lot but [is] spending time with Kylie and Stormi whenever he isn't. He misses them so much when he's gone and wants to make sure he doesn't miss anything.
Though the two seemingly have parenthood down pat and have managed to maintain their relationship, on Feb. 7, People reported that the two were still taking things slow. According to the publication, Jenner and Scott "are not officially living together," and aren't planning on tying the knot any time soon. An insider said, "He has his own place. They are co-parenting though, and things are going great. They are together and happy." They added, "They're not in rush. They're just enjoying their little family."
Though they might not be living together, another source previously told Entertainment Tonight that they still "make it a priority to have date night" every here and there. And obviously, the romance is still alive: After Jenner gave birth on Feb. 1, Scott reportedly gifted her with 443 roses in honor of Stormi being born at 4:43 p.m. Weeks later, he also bought the beauty mogul a black Ferrari La Ferrari as a push present. Clearly, they're doing just fine.
I can't wait to until the holidays come around and we get a cute family photo of the three on a Christmas card or something. That's all I need and I'll be all set.