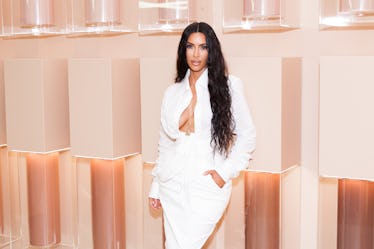 Kim K Teased Some New Swatches On Instagram & Fans Are Convinced A New Eye Product Is Coming
Presley Ann/Getty Images Entertainment/Getty Images
Fresh off the launch of her KKW Beauty pop-up shop in sunny Los Angeles, it seems as though Kim Kardashian is wasting no time when it comes to expanding her eponymous cosmetics line. Over the past year, the reality television star has added everything from eyeshadow sticks to a highlighter palette to her signature Crème Lipsticks. But now, it looks like KKW Beauty may be releasing eyeliner as well — or at least, that's what fans are wishing and hoping for. While there's been no official announcement just yet from the Kardashian kamp, on July 10, beauty news insider Trendmood released what looked to be a sneak peek of what the beauty influencer may have in store.
Though Trendmood and KKW Beauty fans alike have predicted eyeliner as a new product, with the mother-of-three's hand covered in black, brown, gold, white, and nude swatches, many other users are assuming the mysterious product could possibly be a brow pencil (or pomade) and highlight combo. Of course, we'll have to wait and see, but in typical Kardashian fashion, I'm sure the answer will be revealed soon, and the internet will likely go into overdrive.
Aside from collaborations with Mario Dedivanovic for their eyeshadow palette and Argenis for the Crème Color Sticks, this would be the first time KKW Beauty ventures alone into creating products specifically meant for the eye and brow area, so long as the theories pan out to be true.
Just recently, Kardashian-Jenner clan fans freaked over another tease from Kylie Jenner on Instagram: the prospect of Kim and Kylie collaborating on yet another collection for either Kylie Cosmetics or KKW Beauty. On July 2, Jenner posted a series of photos to her Instagram page from behind the scenes of a photo shoot for the original KKW x Kylie Cosmetics venture. As Kylie captioned the pic, "throwback who wants another KKW X KYLIE round 2?" many commenters made it clear that they were dying for some new products from the two.
In case you forgot, before KKW Beauty even launched, Kim got a little help from her youngest sister when it came to breaking into the cosmetics industry. The two collaborated on a set of four crème liquid lipsticks — each in a delicious shade of nude — for Kylie Cosmetics. Needless to say, since Kim ventured on her own with KKW Beauty, it's only taken off ever since.
Regardless of whether or not you're on the edge of your seat waiting for the sisters to work together again or itching for a new KKW Beauty product, the truth is that, whatever Kim is working on is bound to sell out once again. Back in April 2017, when the original KKW x Kylie Crème Liquid Lipstick collection was launched, if you weren't online as soon as they dropped, you were likely left disappointed, since they sold out in a flash — in two hours to be exact, according to Bustle. The hype around Kim's own products has been the same ever since.
That said, if you're looking forward to buying whatever Kardashianhas in store next, the sooner you're online, the better. Because at this rate, the minute these new products become available, they'll all be gone.