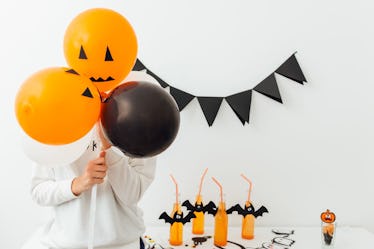 Throwing A Last-Minute Halloween Party Is Easy AF With This Amazon Prime Feature
Throwing a monstrous rager for Halloween sounds great in theory, but have you ever actually gone through the party planning process? First, you have to consider the invitations — do you go digital, or mail out a fancy card? Then there's the guest list, creating a food budget (read: candy and booze), plus decorations. TBH, planning a Halloween party can definitely be a little stressful — but it doesn't have to be. For the aspiring hostess with the mostest, Amazon's Prime Now service makes last-minute Halloween shopping a breeze by delivering everything you need — from delicious treats to spooky decor — to ensure your guests have a frightening good time.
Have you ever considered just how much of your brain power goes into Halloween each year? Seriously, now that I think about it, All Hallows' Eve might be more time-consuming than Christmas. Think about it: How many times have you finished the holiday on a sugar high, still snacking on your favorite chocolate treat while simultaneously and mindlessly brainstorming next year's costume? In the months that followed last Halloween, you might have come across an epic meme, or a rising celeb, leading you to reimagine your ensemble multiple times. It isn't until the end of September that you actually start adding props here and there to your digital shopping cart — then all of a sudden it's Oct. 30, and you still don't have a completed costume. And, oh yeah, you also volunteered to host this year's bash. Cue face-palm.
Enter Amazon Prime Now: your one-stop shop to everything Halloween in a hurry. I've personally been an Amazon Prime member for a couple of years now, and I'm a huge fan of the service. Next-day delivery is pretty bomb, but the e-commerce site took things one step further when it rolled out Prime Now, which can deliver your packages in as little as under an hour. Yes, you read that correctly, and no, I'm not fibbing. Guys, some one-hour photo-developing services don't even deliver in one hour. In fact, they can take more than 60 minutes to get their sh*t done. Not Amazon, though. Amazon sticks to its word.
So here's how the Prime Now service works: Prime Now is a special service that Amazon Prime members can use by either downloading the app or by visiting primenow.amazon.com. From there, you can type in your zip code and browse Prime Now, or search specific local stores and restaurants that work with the service. Add the items you'd like to purchase to your cart, check out using your Amazon account, and choose a time window for delivery. One-hour delivery does cost an additional $7.99, but if you have a little more time to spare, two-hour delivery is free for orders $35 or more. What's also cool is, if you order appetizers for your soiree through Prime Now, you can track your driver in real time so you know exactly when your food will arrive.
It sounds like a pretty sweet deal, right? The only downside to this service is that it's exclusively for Prime members. However, according to an Amazon spokesperson who spoke with Elite Daily via email, if you don't already have a Prime membership, you can sign up for a 30-day free trial. So basically, last-minute Halloween party shopping is still a go whether you're a Prime member or not.
And speaking of Halloween parties, make your list, check it twice, and I can almost guarantee Prime Now will have you covered. "Customers can order all the party essentials they need through Prime Now — everything from snacks and beverages to plates and cups," an Amazon spokesperson tells Elite Daily. "Prime members in select cities can even order beer, wine, and spirits for super fast delivery through Prime Now."
Costumes, candy, and booze? Oh my! Clearly if you're a last-minute planner, Amazon's coming in clutch to help you plan and execute the Halloween party of your dreams (or nightmares) this year. Just don't be ghoulish and wait too long to order — you only have one hour before delivery, you know.