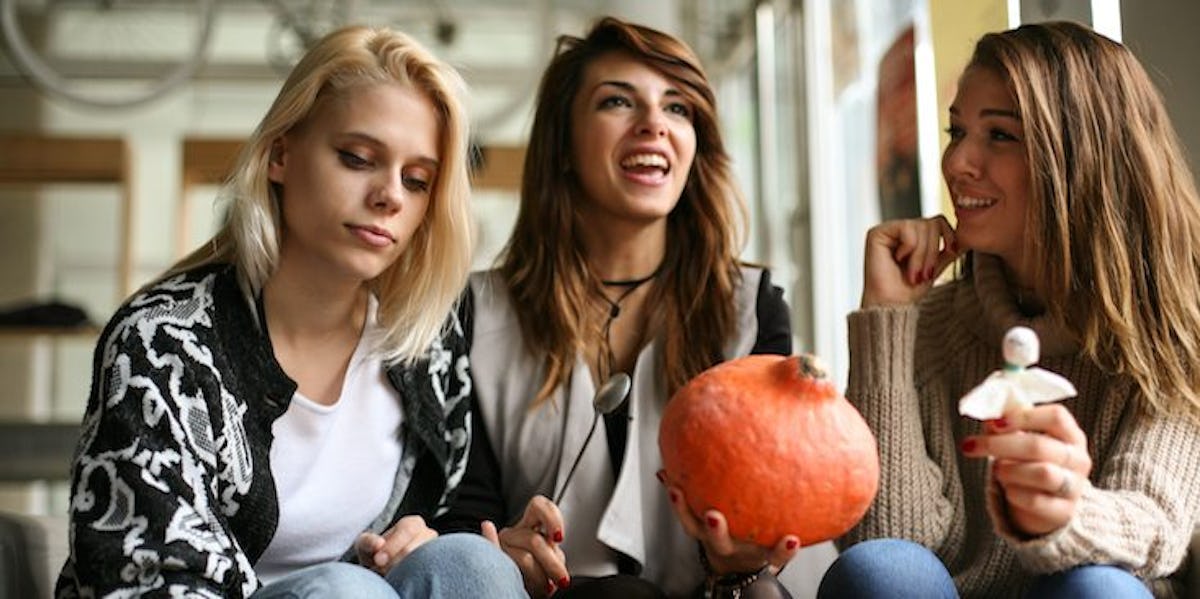 10 Ways To Have A Totally Lit Halloween Party Even If You're Not Into Drinking
Shutterstock
As someone who's just a few years shy of 30, believe me when I say Halloween is never the same once you reach adulthood. But just because trick-or-treating is for the kiddies, and the only way to stock up on candy is by paying for it with your own cash, that doesn't mean you can't throw an epic rager with your closest friends, costumes and all. But let's get something straight here: Adult Halloween parties don't have to be boozy. If you're not much of a drinker and you've been brainstorming how to have a Halloween party without alcohol, I can assure you there are plenty of ways to have fun without getting hammered this All Hallows' Eve.
It's almost as if the moment you turn 21, there's this immediate assumption that because you're now officially of age, you're a drinker. Of course, there's nothing wrong with enjoying alcohol, but just because someone can drink, doesn't mean they like to, want to, or are incapable of having a good time without alcohol. So even though Halloween is definitely a drinking holiday for 20-somethings who've retired from trick-or-treating, if you're the host, it's your party, and you don't have to drink if you don't want to. Here are a few ways to celebrate sober this year.
1. Bob For Apples
Bobbing for apples isn't really a thing anymore, but I say we bring it back for Halloween 2017.
Just toss a bag of apples into a bucket full of water, and have at it. The only rules are that you can't use your hands, and the person who can secure an apple in between their teeth in the shortest amount of time wins.
This is an especially great activity if you're looking to kill time, because trying to grab hold of one of those suckers is hard AF.
2. Have A Costume Contest
Things can get real messy real quick when party guests get shwasted. Drinks spill, foods stain, and when boozy hands rub drunk, sleepy eyes, you better believe face makeup gets ruined.
But when a Halloween party omits the booze, odds are costumes are going to be kept in pristine judging condition, and, let me tell you, it is way easier to rank a person's costume when you can actually identify what they set out to be.
3. Carve Pumpkins
Pumpkin carving is a dying art that needs a revival. I wouldn't recommend putting knives in the hands of heavy drinkers on Halloween, but this is definitely a sport for sober soirées.
Make it potluck style and ask guests to scour their houses for art supplies like paint, glitter, glue, yarn, and the like. Partner up, or design individually, and the most creative jack-o-lantern wins a prize -- first dibs on the candy favors, perhaps?
4. Sing Halloween Karaoke
Halloween isn't a holiday you'd generally assume to be musical, but there are a ton of spooky hits to jam out to.
Do your research and compile a playlist with tracks like "Monster Mash," "Somebody's Watching Me," "I Put A Spell On You," and "Ghost Busters" for guests to belt out. The louder you are, the easier it'll be to drown out your doorbell -- which kind of sucks for trick-or-treaters, but at least it guarantees you'll have leftovers!
5. Have A Halloween Movie Marathon
Personally, I love getting spooked, especially on Halloween when everything just feels 10 times creepier.
Invite a few close friends over for a thrilling line-up, and decorate your snack table with all kinds of decadent sweets and bowls of popcorn to munch on while you watch. Choose from a range of sh*t-your-pants scary films, like The Shining, Last House On The Left, and The Exorcist.
And don't forget about the corny-but-still-creepy options like Scream, A Nightmare On Elm Street, and Friday The 13th, or family-friendly titles like Hocus Pocus, Halloween Town, and Casper.
6. Serve Animated Appetizers
As much as your guests will appreciate the time you took to transform your space into a Pinterest-inspired haunted house, they're probably more concerned with what's for dinner.
Channel your inner iron chef and whip up a few appetizers that scream Halloween, like these mini mummy hot dogs, pumpkin-shaped deviled eggs, and spider bagel pizza bites.
Your friends will be so intrigued by the food, they'll hardly notice the absence of booze.
7. Organize A Scary Scavenger Hunt
Either stick to your own four walls or go exploring outside the perimeters of your complex.
Halloween night can be chaotic in the streets, which makes it all the more challenging (and fun) to scope out what you need to find.
8. Make It A Murder Mystery
Am I the only one who sees murder mystery parties on TV all the time, but is never actually invited to one?
Make that TV magic come to life this Halloween by staging your own murder mystery. Assign each guest a part, and ask them to come fully dressed and ready to perform, because this could take all night.
9. Tell Scary Stories In The Dark
Directions: Shut off all the lights, ditch your cell phone, and rely only on flashlights to see the script.
Channel your inner Edgar Allan Poe and take turns reading from your favorite spooky stories, like The Raven, and any tale from Alvin Shwartz's collection of Scary Stories To Tell In The Dark.
Fair warning that this soirée may turn into a slumber party, because once you've read one or a few of these chilling tales, you're definitely going to be afraid of the dark.
10. Make Your Own Face Masks
We all love a girls' night of pampering, but Halloween masks aren't for skin care -- they're for scaring. Plus, who doesn't love getting crafty every once in a while?
Draw inspiration from the classics like Scream and The Mask's green molding, or come up with a ghoulish look all your own. If your style is less creepy and more classic, I hear Gossip Girl's Blair Waldorf has been spotted rocking the occasional masquerade accessory on the Upper East Side.
Party on!