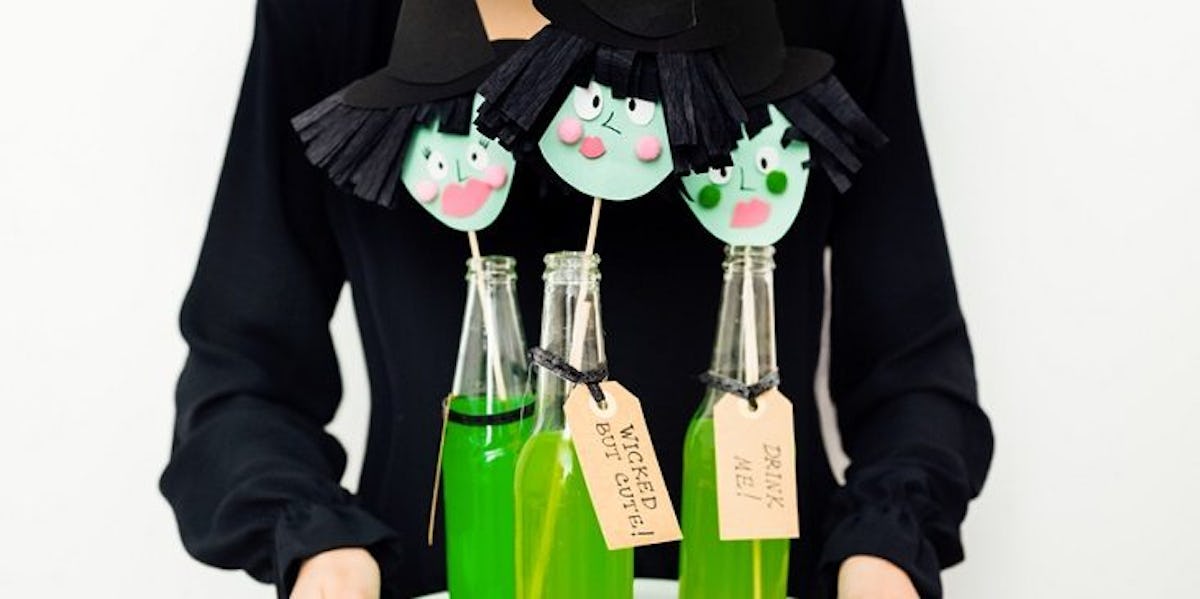 8 Non-Alcoholic Halloween Punch Recipes For Your Party Cauldron
Katarina Radovic/Stocksy
Halloween is almost here, so it's time to get excited. If you're planning a party, the pressure to have the best food and drink spread for everyone attending is totally on. I'm not much of a drinker, so I typically go for the mocktails. If you don't have any non-alcoholic drinks planned for your Halloween party this year, don't fret. There are a ton of tasty Halloween punch without alcohol tutorials you can prepare for anyone who doesn't want to drink. Remember, alcoholic drinks are not necessary to monster mash the night away.
You'll have a fun time telling your main girls to come over early and help you get creative in the kitchen. Serving drinks out of a big black cauldron is always fun for additional decor at your bash. Whether you make a punch with alcohol or not, there's always room to think about extra things you can add to your beverage to make it spookier and more exciting. Candy eyeballs, anyone? How about gummy fangs? Needless to say, have yourself some witches brew that everyone of all ages can enjoy with these eight non-alcoholic Halloween punch recipes. They're all super simple, and they're actually probably a lot cheaper than going to the liquor store. So, you're saving time and money. Your wallet will seriously appreciate it. So, grab some punch, and cheers to a thrilling night.
1. Excuse Me, But There's A Hand In This Punch
Have you ever been scooping out some punch at a Halloween party, and noticed a fake floating hand? Me either, but now your guests can experience that with this downright spooky recipe. The gelatine hand will surely scare the hell out of them.
2. A Witches Brew In Five-Minutes Or Less
If you're in a last-minute crunch to throw something together, this recipe is quick, easy, and looks super cool. The combination of sherbet, frozen limeade, and ginger ale creates a foamy look that really adds something eerie to your punch. Add in the dry ice, and you're set to go.
3. A Ghoulishly Green Punch
This recipe is bubbly and green. Sounds appetizing for all the ghosts and ghouls out there, amiright? This punch may look a tad on the spookier side, but it tastes amazing. The lychee eyeball garnishes are the cherry topping to this Halloween beverage.
4. Martha Stewart-Approved Halloween Punch
As long as you use non-alcoholic ginger beer, this recipe works. I mean, we all want to throw a Halloween party that would make Martha Stewart proud. Plus, this punch has a floating face and hand which really ups the ante, and Bette Midler is obviously wonderful in this tutorial.
5. These Ice Cubes Are Legit Staring At Me
This recipe has two ingredients, so it's one of the simplest punches to put together. Each one of these recipes on the list has something extra to make it oh-so-spook-tacular, and that's what these ice cube eyeballs do. They take this punch to another level with something frightful.
6. Bubbly Potion, Anyone?
This mocktail is basically just green Sprite, but adding some Nerds to the bottom of each drink makes for a colorful, fizzy garnish. This video also features several recipes for delicious Halloween treats you can add to the snack table. So, if you're looking for something to munch on while drinking your brew, this video has you covered.
7. We're Here For The Colors Of The Candy Corn Rainbow
There are a few drinks in this video you can make. Some of them are alcoholic, but there are two non-alcoholic recipes to try your hand at. The first of the non-alcoholic drinks is a candy corn-looking punch that's super Instagram-worthy, especially if candy corn is one of your fave holiday treats.
8. Bring On The Fog And Gummy Worms
We've seen recipes that include things like eyeballs, fake hands, and a fake face floating in them, but here comes all the gummy worms. If you pair this yummy drink with some pudding dirt cups, it will be a dream combination for any gummy lover. Sip up!