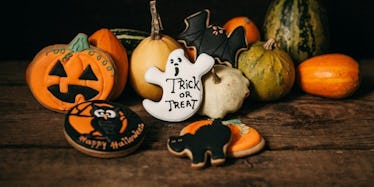 10 Best Halloween Party Snack Tutorials That Will Make Even Dracula's Mouth Water
Marija Savic/Stocksy
We all know that Halloween is all about the candy. Just seeing the aisles of my local store fill up with bags on bags on bags of festive sweets immediately gets me in the spirit for Halloween. It's one of my favorite times of the year, and for your Halloween party this year, you'll surely want to have a kick-ass dessert spread. Sure, you could have bowls of candy corns; that sounds amazing. But, you also most likely want to have some healthy treats, salty snacks, and chocolate cupcakes available for guests to munch on, too. Don't go with the generic "eyeball" grapes. You definitely need to prepare some unique Halloween party snacks for your friends that fulfill both their salty and sweet needs. It's time to get creative.
Your snacks can be something spooky or just really cute. Even if you're not a whiz in the kitchen, there are some snacks that are super easy to make. You know a party is all about the food. Well, at least for me it is, so you should consider having an awesome variety on your snack table. If you need some inspiration, here are 10 Halloween snack recipes that anyone can make for your party (even you) that are delicious and totally Instagram-worthy. You should tell your guests to come hungry, because they'll want to try everything.
1. "Dead" Fingers, Chocolate Spiders, Eyeball Slime, And Monster Covered Pretzels
All of these snacks are so adorable, and perfectly themed for Halloween. They also require absolutely no cooking. That means anyone can make them... so let's get this party started.
2. Ghost Pops, Dirt Cups, And Jumbo Marsh Pops
I mean, you can't go wrong with a platter of dirt cups for Halloween, right? All of these snacks are also really cute and require no baking whatsoever. Also, not many people at your party will be able to resist these chocolatey jumbo marshmallow pops. They'll be a major hit.
3. Caramel Apple Pops, Witch's Broom Sticks, Bloody Eggs, And Monster S'mores
These snacks require some cooking, but they're not hard at all. The egg eyeballs are super creepy looking if you want to include some spooky snack in the mix. You also can't go wrong with anything that has to do with s'mores.
4. Casper Cupcakes, Beetle Juice, And Little Frankensteins
All of these snacks are so easy that you'll be kicking yourself for not thinking of them on your own. The Casper Cupcakes and Beetle Juice could be used for any get-together that's going with a Halloween movie theme. The Little Frankenstein pudding cups are just super cute, they definitely deserve an invite to your party.
5. Graverobber Pudding Cups
Here's another recipe for dirt cups, but this one takes it a little step further. This is perfect for someone who loves baking. They're super creepy, and you have to warn your guests they might find a bone or two.
6. Walking Dead Cheesecake Cups
These bloody (I mean, raspberry) cheesecake cups are scary but look amazing. This one requires a bit more cooking than some of the easier recipes on this list, but they look totally worth it. You can't go wrong for Halloween with bones sticking out of your snacks.
7. Jell-O Eye Candy Bombs
These are called candy bombs for a reason. When your guests bite into these eyeballs and realize there's Jell-O inside, they'll be totally surprised. These Jell-O eye candy bombs are really fun to scare your friends with, and taste absolutely delicious.
8. Clementine Jack-O-Lanterns, Apple Mouths, And Scary Eggs
These snacks are all healthy. So, if your guests are looking for something good to eat in-between their sugar coma feels, you can have these snacks readily available. These, just like a few other snacks on this list, require no cooking at all.
9. Jack-O-Lantern Sweet Potatoes, Mummy Hotdogs, And Graveyard Taco Dip
Did someone say taco dip? These snacks will be good for anyone looking for something savory. The taco dip is literally perfect for a big party, and will most likely be gone within minutes. The mummy hotdogs are a fun Halloween twist on pigs in a blanket.
10. Spider Web Cookies, Graveyard Cake, And Mummy Pizzas
These snacks define the perfect combo of savory and sweet. You also can't go wrong with mini pizzas that look like mummies. And the spider web cookies combine two of our favorite things -- chocolate and peanut butter. Yum!