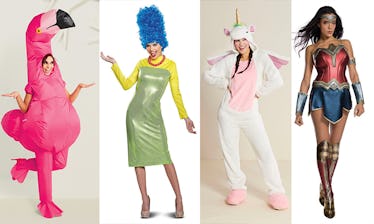 Target Has Better Halloween Costumes Than Any Popup Store This Year & Here's Proof
Target
It's hard enough getting my husband to be patient with me while I stroll through the dollar and home decor sections at Tarjay, but in the weeks leading up to Halloween, I'm better off leaving him at home. But in his defense, I'm obsessed with the holiday and my time spent wandering through aisles of decorations, candy, and pumpkin-carving supplies can't be rushed. I love it so much, get this: We're only days into October and I've already sifted through all the Halloween 2018 costumes from Target, and I think they're even better than last year.
The only thing about shopping at Target for Halloween costumes is they sell out pretty quickly, so I wouldn't suggest waiting until the last minute to decide what you're dressing up as — and don't act like you're not there every week anyway! The next time you're there picking up shampoo and laundry detergent, get your hands on the best costumes before all the good ones are gone. To get you motivated to hit the back section of the store STAT (the one dedicated to all-things Halloween) and help you decide what you'll be this year, I'm sharing the best costumes I've seen at Target so far.
How could you not wear a costume that's basically pajamas? Comfort over everything, amirite?
Adult Plush Unicorn Halloween Costume Hyde and Eek! Boutique, $40, Target
Apparently the characters from The Incredibles will be huge this year, just saying!
Women's The Incredibles Mrs. Incredible Classic Halloween Costume, $36, Target
Flamingos are going to be another big trend this year. It seems random AF, but fashion searches for 'flamingo' have increased 105 percent this year on Lyst and saves are up 77 percent on Pinterest.
Adult Air-blown Inflatable Flamingo Halloween Costume - Hyde and Eek! Boutique , $40, Target
Sharpen your eyeliner pencil for this one.
Pirate Maiden Women's Costume, $24, Target
Channel your inner Gal Gadot with this one — you know you want to.
Women's Wonder Woman Adult Costume, $49, Target
Why be the damsel in distress, when you can be the leading man?
Edward Scissorhands Women's Miss Scissorhands Costume, $37, Target
Yassssss, Target, yassssssssssssssss! Sadly though, the heels aren't included — but really though, where can I get those?
Women's Egyptian Goddess Costume, $35, Target
This costume is enough to intimidate any wolves you come across this Halloween.
Women's Dark Red Riding Hood Costume, $78, Target
I mean, how good is this one? It would be even better if you got your whole squad to be the rest of the Simpsons.
The Simpsons Adults' Marge Simpson Deluxe Halloween Costume - Disguise, $36, Target
A League Of Their Own is one of the best movies ever — fight me on this one!
A League Of Their Own Women's Rockford Peaches Costume, $70, Target
If you're going for the ultimate throwback, here it is. And what's even better, you won't even need to do your makeup or wash your hair!
Gumby Adult Costume, $54, Target