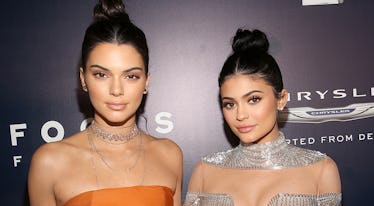 Kendall & Kylie's New Bag Line With Walmart Is All Under $40, So I'm Buying A New Fanny Pack ASAP
Jesse Grant/Getty Images Entertainment/Getty Images
Very rarely have I ever heard the Jenner sisters' names and Walmart used in the same sentence until now — but I have a feeling that's about to change, since the duo's accessories line collab with the retail giant is here, and it's very, very cute. Kendall and Kylie have teamed up with Walmart to create a collection of handbags priced at $40 and lower, and TBH, anyone unfamiliar with the new drop probably wouldn't believe you if you told them where you bought your cute new bag. Shout out to Walmart for dipping its toes in the fashion world, and the Jenner sisters for blessing customers with some affordable bags to slay with — now, let's look at exactly what's in the Kendall & Kylie for Walmart handbag line, so I can properly plan out my wishlist.
Keep in mind, the pair already have a high-end fashion line that makes some pretty stunning clothes, bags, shoes, and accessories. The Kendall + Kylie line is sold at Nordstrom as well as on Amazon, but unlike their new endeavor with Walmart, the pieces can get pretty pricy. A pebbled leather backpack will cost shoppers $295, and a simple tote bag can cost as much as $125.
Fortunately, the sisters decided to bless their loyal fans with a cheaper range that doesn't sacrifice style. Thank you, queens!
So, what's worth snagging from Kendall + Kylie for Walmart? Keychains as inexpensive as $7, wallets with a luxe look for just $21, and even tons of on-trend fanny packs and backpacks that won't break the bank. Nothing in the collection costs more than $40, so it's safe to say I'll be getting almost everyone on my holiday shopping list something from this line. If you're my friend and you're reading this, text me what bag you want before the good ones sell out!
I'm delighted to say that I'm the proud owner of the Parker Metallic Backpack from the Kendall + Kylie high-end line, but whenever people ask me where they can buy one, I am always sad to say it's been sold out for ages. However, I can now point them in the direction of similar styles from the Walmart line, including the Pink Metallic Snake Backpack ($21, walmart.com) with its black straps and baby pink chrome finish, or the Teal Metallic Mini Backpack ($21, walmart.com) a smaller version featuring a pocketless front and a matching keychain in the jewel-toned teal shade. Can I buy both of these even though I have the Parker already? How many cute metallic backpacks is too many?
If you're more of an essentials girl — money, keys, lip gloss — and don't require a bulky backpack for daily wear, might I suggest one of the brand's super cute fanny packs. Considering these are a trend that will likely once again come and go, I wouldn't recommend investing too much money into this style of bag, which is why the Kendall + Kylie For Walmart pricepoint is perfection. I'd say the Black Faux Leather Large Fanny Pack ($19, walmart.com) is a sleek, safe bet, but if you're looking to experiment, this one also comes in red as well as silver.
Don't forget to rock your fanny pack over-the-shoulder, just like Kylie does!
Maybe you've already got your go-to daily bag, but wouldn't mind picking up a special purse to compliment your night-out looks? Nothing spices up fall and winter days spent bundling up in the same coat quite like using your purse to change up your look, and this line has multiple statement bags that will suit a variety of styles.
First up is the Iridescent Oil Slick Belt Bag/Crossbody ($24, walmart.com), which can be worn three different ways — around the waist, across the body on its strap, or strapless as a clutch — making it one hell of a bargain. The oil slick faux leather look is so high fashion, and it's the perfect pop to complete an all-black look, IMHO. If you're into that monochrome vibe, though, and would rather play with texture and sparkle instead, the Small Pouch Crossbody With Black & Silver Sequins ($19, walmart.com) is undoubtedly for you. Seriously, people are going to think you're lying when you tell them you got this statement-maker from Walmart. Their loss!
To peep the rest of the collection, check out the Walmart website before all the statement bags sell out. Once again, thank you to the Jenner sisters for bestowing upon us this handbag blessing. Catch me very soon trying to rock a backpack, fanny pack, and night-out purse all at once, because I'm far too excited to bother waiting to style them appropriately!