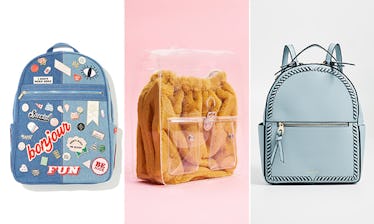 15 Backpacks That Are Actually Cute & Can Hold All Your Back-To-School Crap
When I was in school (which wasn't all that long ago, I'll have you know) there were two options for backpacks: Jansport backpacks and the generic brands. They both looked the same, but that Jansport logo was somewhat of a status symbol, but even the real things were poor excuses for really cute backpacks. It was a two-pocket backpack (the big one where all your books went, and a smaller one on the outside for lip gloss and lunch money), and it came in a rainbow of colors. The only options for individuality we had at that time, was to decorate our boring bags with stickers, pins, and Sharpied-on notes from friends.
These days, the are so many more cute options. If I could go back and do it again, my backpack game would be on point. I wouldn't settle for some pink off-brand bag with bulky black straps and drawings all over. I'd go with something in a brown leather, or a plaid print to channel my inner Cher Horowitz, or maybe even a clear backpack to show off all my super cute school supplies.
My school days are behind me, but that doesn't mean I can't step up my backpack game. Whether you're looking for a backpack to travel with, to take to work, or to carry from homeroom to gym class, these are the cutest ones on the market. Scroll through for the backpacks you'll actually want to carry.
Reversible Vinyl Backpack ($36; zara.com)
Plaid Backpack ($26; zara.com)
Backpack With Pins ($36; zara.com)
Faux Leather Structured Backpack ($23; forever21.com)
Faux Leather Backpack ($35; forever21.com)
Drawstring Flap Top Backpack ($28; forever21.com)
Calpak Kaya Travel Backpack in Denim ($75; shopbop.com)
Fila Riley Backpack in Black ($30; shopbop.com)
State Mini Kane Rainbows Backpack ($65; shopbop.com)
Mad Love Novelty Printed Canvas Backpack ($30; target.com)
Get It Together Backpack In Rose Parade ($65; bando.com)
Hello Straw Backpack ($50; target.com)
Get It Together Backpack In Denim ($58; bando.com)
Get It Together Backpack In Garden Party ($65; bando.com)
Herschel Supply Co. Day Pack Backpack ($40; azaleasf.com)
If I had all these options when I was in school, I might've been more excited to go back after summer ended. I might even have a few and swap them out depending on how I was feeling that day. Since I went to a private school, I wore a uniform every day, so I couldn't do much expressing myself with my clothing options. But the good thing was I didn't have to worry about matching my uniform, because nothing matched my school colors of burgundy and tan anyway.
Whether you're in the market for a solid colored backpack that you can customize with pins and stickers, or you're looking for something preppy in a cool silhouette, you're lucky to have plenty of options. Now all that's left is finding school supplies cute enough to match your adorable new backpack, and stocking up.