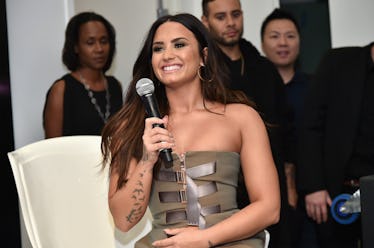 Demi Lovato Opens Up About Using Dating Apps & What She Looks For In A Partner
Mike Coppola/Getty Images Entertainment/Getty Images
Demi Lovato's newest documentary, Demi Lovato: Simply Complicated, divulged a lot of surprising things about the celebrity. From an in-depth look into her battle with addiction to her surprisingly dirty sense of humor — Lovato is truly coming into her own and is on a path to becoming unstoppable. Through the documentary, fans received a very interesting glimpse into Lovato's dating life. She's definitely dating, and even uses an app like the rest of us. Of course, the documentary had me wondering, "What is Raya and how do I get on it?"
As soon as Lovato mentioned that she matched on Raya, I had to pause the movie and instantly look up this dating app. Like, how could there be a dating app I don't know about? IS EVERYONE KEEPING THIS A SECRET FROM ME? Actually, yes. Famous people use Raya and it's really hard to become a member.
According to Thrillist, Raya is known as the "Illuminati Tinder." Interested? I THOUGHT YOU MIGHT BE. Sorry to tell you, it's extremely difficult to gain access. There's an "extensive application process" that involves an actual committee that determines if you make the cut. Factors like your "overall Instagram influence" and who recommended you to the app play a huge role.
Honestly, my 70 Twitter followers aren't going to help me connect with people like Patrick Schwarzenegger and Elijah Wood. Even if I could get accepted, I would for sure get kicked off. Apparently, if you screenshot anyone's profile, you receive "an alert threatening to throw you off the service if the photo ends up online." As if I'm not going to share my matches with the group text?
Well, Lovato is definitely on Raya, for all you A-listers reading this.
She even divulged that she uses it to connect with guys and girls. The singer said,
I am open to human connection so whether that's through a male or female, it doesn't matter to me.
OKURRR. I feel you, Demi. At first, Lovato explained that she didn't have a type and there wasn't a "common theme" between people she's dated. However, as she continued with traits she looked for in a partner, she came to the conclusion (with a giant smile), "I do like athletes."
As far as turn-offs, Lovato doesn't like douchebags or guys who play games. YES, THANK YOU. None of us like that, in case you were wondering.
Lauren Einbinder, one of Philymack's managers, said that (obviously) people want to date Lovato and "she has a lot of suitors." In the documentary, Lovato's personal assistant, Kelsey Kershner, recounted a hilarious story that involved a few prospective suitors coming to see one of Lovato's shows. The story involves a little juggling and is so, so funny. To this, Lovato slyly responds,
My theory is you can't win if you don't play the game.
YOU ARE MY KWEEN, DEMI. It's great to see Lovato dating and enjoying herself. However, it was shocking when she and longtime boyfriend Wilmer Valderrama ended things in June 2016 after six years together.
During the documentary, Lovato did speak on the break up and her feelings towards Valderrama now. She said,
My heart is always with Wilmer [Valderrama]. I think it was with Wilmer. I think that it is with Wilmer and I think that it will be. Because you don't share six years with somebody and not give them a piece of your heart... and visa versa.
She continued,
I'm pretty sure I'm not going to meet anyone that compares to him, but I'm trying to keep an open heart and an open mind when it comes to that.
Lovato explains that she hasn't had the chance to experience what it was like to live on her own and take care of herself. She obviously still has love for Valderrama, but needed time to be with herself. She explained,
The spark hasn't faded, but there are issues I haven't conquered yet that I know I won't conquer if I'm relying on somebody else to take care of the loneliness.
I can't get over how relatable Lovato is. If you haven't watched Demi Lovato: Simply Complicated, go do it now!
If you're a fan, you will love her even more. If you're not, the documentary will convert you. It was amazing to see Lovato's journey, and I can't wait to see what's next for her.
Check out the entire Gen Why series and other videos on Facebook and the Bustle app across Apple TV, Roku, and Amazon Fire TV.