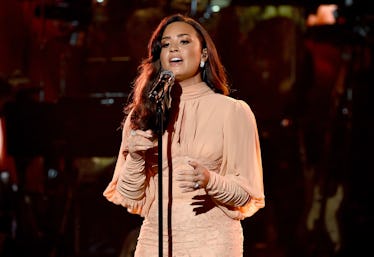 These Quotes From Demi Lovato's 'Simply Complicated' Show How Far She's Come
Kevin Winter/One Voice: Somos Live!/Getty Images Entertainment/Getty Images
Demi Lovato just released her documentary, Simply Complicated, on YouTube, and already two minutes in, we can tell it's going to be, like, everything. In her intro, she gives us some great inspirational one-liners like, "Secrets make you sick," "sex is natural," and "love is necessary." More than anything, Demi says, "the key to being happy is to tell your truth." And you guys, there are so, so, SO many good quotes from Demi Lovato's Simply Complicated that show how far she's come.
I didn't know that I was a Demi fan, but now I'm all the way in. Check out some of her wisdom below.
On her difficult relationship with her father:
"I guess I always searched for what he found in drugs and alcohol, because it fulfilled him and he chose that over a family."
On depression in her childhood:
"I was depressed at a very, very young age. Fascinated with death. Wondering what it would be like to have a funeral. I never knew why I would think so darkly, and it took me a long time to figure out what was going on."
On learning she could sing:
"I don't know how I knew I had it in me, but I knew it was what I was supposed to do."
On entering fame:
"The fame started to creep into my life... I started feeling pressure to look a certain way, to sing music that I felt people would like, rather than sing music that I would like. There was more pressure to succeed, ya know, numbers on charts. I was a perfectionist, and I really wanted to be the best of the best."
On being diagnosed with bipolar disorder:
"When I got diagnosed with bipolar disorder, it just made sense... When I was younger I didn't know why I would stay up so late writing and playing music, and then I learned about episodes of mania and I realized that that's probably what it was... I was manic. In a way I knew, it wasn't my fault anymore. Something was actually off with me."
On her team threatening to leave her:
"I think that approach worked for me because... it sounds silly... but it was the beginning of the process of surrendering."
On deciding to get sober:
"You really have to lean into the people that are trying to support you... You really have to surrender, because that is when the change is going to happen."
On her relationship with Wilmer Valderrama:
"I think my heart's always with Wilmer. I think it was with Wilmer. I think that is is with Wilmer, and I think that it will be. You don't share six years of your with somebody and not give them a piece of your heart, and visa versa. Like, I'm pretty sure I'm not going to meet anybody that compares to him but I'm trying to keep an open heart and open mind when it comes to that."
On living alone for the first time:
"I'm growing up, by myself, and to have my own place designed the way that I want it to look, with my dog... I wanted to know what it's like to be on my own... and this is where I finally feel like I can be grown up."
On working out:
"Working out is a form of meditation to me because I'm not focused on anything in my head. It can transport you to a totally different place."
On dating:
"I am open to human connection. So whether that's through a male or a female, it doesn't matter to me."
On confidence and feeling sexual:
"When I'm comfortable in my own skin, I feel confident. And when I feel confident, I feel sexy. And when I feel sexy, watch out."
On Creating Her Summer Hit "Sorry Not Sorry":
"My thoughts are it's always been about heartbreak or struggles, and when they [the public] think of my music they think it's heavy. And I just want to break that mold... I feel like coming out with a song that's fun that I'm passionate about, it just feels right to me. "
Here's a quick trailer for the documentary, but I seriously can't recommend watching the whole thing enough.
Demi, I love you and your voluminous ponytail.