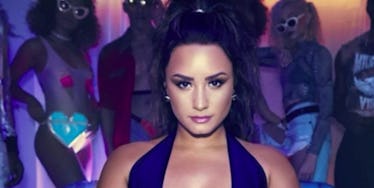 Lauren Abedini's Response To Demi Lovato's New Album Is So Damn Cute
Safehouse/YouTube
The day is finally here: Demi Lovato released her highly anticipated sixth studio album, Tell Me You Love Me, and it's just as good as we all expected. The album is filled with emotional songs that showcase Demi's range and talent, as well as some classic Demi bops to give our hearts a break (I'm so sorry); in other words, people are loving it. Fans aren't the only people living for this new album, though; Demi's rumored girlfriend Lauren Abedini showcased her support for one of the album's songs "Lonely" on her Instagram story the morning of the release. Lauren Abedini's Instagram about Demi's album is cute AF and might just confirm once and for all that they're an item.
Rumors that Abedini and Lovato are dating have been circulating for a while now. Since it's known Demi is bisexual and she split with her longtime beau Wilmer Valderrama last June, it's possible that she and Lauren are indeed an item. How long they've been together (if they are), though, is still a major question fans have.
The rumors surrounding their relationship were heightened earlier in September when the potential power couple was spotted holding hands (and butts) at Disneyland, and this new post on Lauren's Instagram story gushing over a song on Demi's new album only serves to further those rumors.
Abedini, an openly gay DJ who also runs a women's charity (is she perfect or what?), uploaded a screenshot of her listening to Demi's new song "Lonely," which features Lil Wayne, with the caption "This song slays my whole damn life." On top of that, she tagged Demi's account and said "Proud of you @ddlovato this whole album is f—ing incredible." I can't blame her, she's not wrong.
Neither Lovato nor Abedini have confirmed their relationship to the media. In fact, Lovato has responded to questions about her sexuality by telling fans to watch her upcoming documentary, Demi Lovato: Simply Complicated. The singer has also tweeted in regards to her personal life, saying,
Just because I'm refuse to label myself for the sake of a headline doesn't mean I'm not going to stand up for what I believe in. If you're that curious about my sexuality, watch my documentary. But I don't owe anybody anything.
Perhaps we'll learn more about her possible relationship once the documentary lands on YouTube on October 17.
Of course, Demi has said in the past "All of [her] songs are based off of personal experience," which makes me wonder if there are any songs on the album Demi wrote for Lauren. Especially since the singer spoke with People earlier this year about how the album reflects her life over the past year-and-a-half. Lovato told the outlet,
You know my personal journey. I have been through a lot over the last year-and-a-half. I've done a lot of growing and I wanted an album that best represented who I am. My sound, I wanted it to be more authentic to who I am, which is more soulful and more R&B. And I wanted people to be able to relate to every song on the album.
Listening to the album, it's easy to see which songs reflect Demi's growth over this last year-and-a-half. "Lonely" seems like it's definitely about her past relationship with Wilmer Valderrama — indeed, lines like "The month was June / The smoky sun, our fatal run / It ended too soon" point at their relationship which ended last June — meanwhile songs like "Ruin The Friendship" seem to pull inspiration from Demi's personal friendships, as well.
Fingers crossed we'll hear more about song inspirations in her documentary; for now, though, we'll just be over here streaming Tell Me You Love Me on repeat.
Check out the entire Gen Why series and other videos on Facebook and the Bustle app across Apple TV, Roku, and Amazon Fire TV.