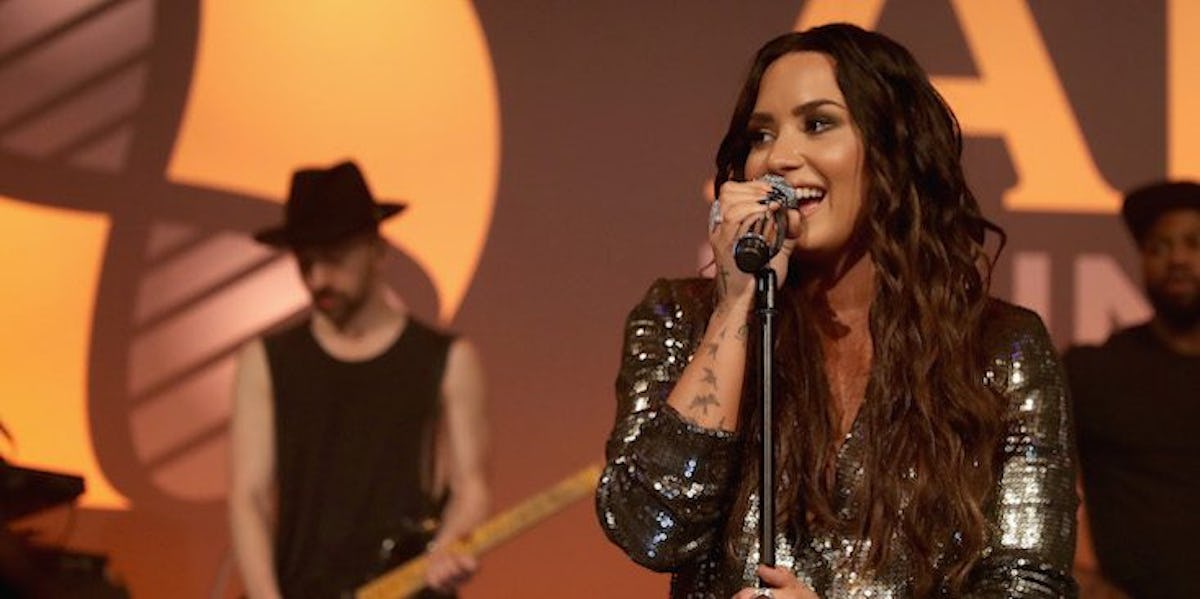 Demi Lovato May Be Throwing Major Shade At A Former Friend On Her Next Album
Antonio de Moraes Barros Filho/Getty Images for ARD Foundation
Revenge songs are such a big trend. And with good reason, they get everyone wondering who exactly the singer is cryptically referencing and throwing shade at. Demi Lovato's fan accounts just released the tracklist for her new album and there's one song that already has people talking, just by the title. So, Who is "Ruin The Friendship" about?
Ooh. Well, as these things go, Lovato is just sitting back and letting fans draw their own conclusions and dream up their own theories. Is the song about an ex? A friend from her past? A current friend that she's got some beef with?
The fact that no one has even heard "Ruin The Friendship" or seen the lyrics doesn't matter a bit because people hopped on Twitter and got right to work trying to sniff out who Lovato is referencing in the song.
The go-to target for this type of tune would be revenge song queen and former Lovato friend Taylor Swift because, why not? After all, as people have pointed out on Twitter, Lovato was once asked how Selena Gomez was and responded with a grin, "Ask Taylor." Ooh, remember that? Someone even tweeted: "What if in the middle of "Ruin The Friendship" Demi says: Ask Taylor." OMG.
Or maybe it's all about Gomez? The two were BFFs for so long and then had a falling out, so fans are wondering if Lovato will tell all about how that friendship was ruined.
Still others, however, believe that since everything is all good again between her and Gomez, the song couldn't possibly be about her former Barney co-star. Though they're friends again, I'm willing to bet it's not quite the same as the old days, and Lovato may have used her experience with their on-again-off-again friendship as fodder for her lyrics.
Or is "Ruin The Friendship" all about Nick Jonas? Huh? Yeah, this theory seems a little shakier, but some fans believe that their relationship as friends but not as boyfriend/girlfriend may speak to the point that if they ever dated it would have ruined their friendship. They've definitely remained the closest of friends over the years, so maybe the discussion of something romantic came up in the past but they didn't want to mess up the good thing they have.
Is your head spinning yet? Since fans don't have a lot of information to go on, they're making the best of using the vague title to find the possible subject of the song. I'm guessing once we all get a first listen to the song and the lyrics, things will either become much clearer... or there will continue to be more speculation over who "Ruin The Friendship" is all about.
Lovato had mentioned in a recent interview with MTV that she was actually nervous about one of the songs on the new album, explaining: "Sometimes you put out music that you just feel like everyone is going to know who it's about," adding, "Headlines are going to come out of it, and it's like, when you write a song, you're just being vulnerable, and you're just writing about something that's inspiring you, so all the baggage that comes with it is what I'm kind of nervous about."
Lovato added that, although nervous, she's happy to let people draw their own conclusions, explaining:
I think that everything happens for a reason, and certain emotions are felt at certain points in your life, and you don't always have to explain them to people. So whatever you want to think about it — you go into whatever theories you have — fine. But I know what it's about and who it's about and I'm just going to let it be.
Lovato's new album Tell Me You Love Me comes out Sept. 29. I'm guessing there will be lots of theories flying that day about "Ruin The Friendship." Here's the reported full tracklist, according to Twitter:
1. "Sorry Not Sorry" 2. "Tell Me You Love Me" 3. "Sexy Dirty Love" 4. "You Don't Do It For Me Anymore" 5. "Daddy Issues" 6. "Ruin The Friendship" 7. "Over Forever" 8. "Lonely" 9. "Cry Baby" 10. "Games" 11. "Concentrate" 12. "Hitchhiker"
Check out the entire Gen Why series and other videos on Facebook and the Bustle app across Apple TV, Roku, and Amazon Fire TV.