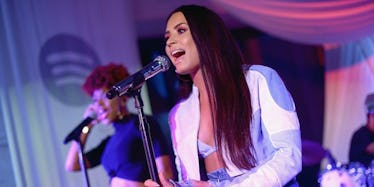 Demi Lovato Shares Details About New Songs On Her Album & They Sound So Emotional
Charley Gallay/Getty Images for Spotify
Excitement is building over the release of Demi Lovato's new album, Tell Me You Love Me,  and as we get closer to the drop date, more details are coming out. Demi Lovato's "Ready For Ya" and "Only Forever" are two tracks to check out, in particular, for a very special reason. Lovato explained why these are the most meaningful songs to her on the new album.
It turns out that Lovato drew some major inspiration from another powerhouse vocalist for her album – Christina Aguilera. More specifically, Aguilera's album Stripped.
During an interview with People, Lovato dished on how Aguilera is one of her faves, specifically why the album Stripped influenced her. It turns out it's so much more than the vocals – it's the attitude.
Lovato explained, "I grew up listening to Christina Aguilera. She was one of my idols growing up. She still is. Her voice is incredible, and in Stripped you really got to hear that." She called Stripped "the breakout album that really transformed her into the icon that she is today," adding, "I was even inspired by the black and white artwork!"
Hmm. Is Lovato thinking that Tell Me You Love Me will be a huge breakout album for her? Oh god, I'm getting goosebumps about her new songs.
How about adding even more goosebumps to the mix? Lovato gave a little intel on two of the tracks on the album and they sound like they came from a super emotional place.
Lovato explained, "You know my personal journey. I have been through a lot over the last year-and-a-half. I've done a lot of growing and I wanted an album that best represented who I am."
She continued, "My sound, I wanted it to be more authentic to who I am, which is more soulful and more R&B. And I wanted people to be able to relate to every song on the album."
While it was "tough" for her to pick one meaningful song, she said, that "Ready For Ya" and "Only Forever" (on the deluxe version) "just emotionally" are "special." She added, "My heart was full of just emotions when I wrote them."
Lovato's Tell Me You Love Me hits stores and streaming services on Sept. 29. Can't. Wait.
Lovato has been popping up to promote the album, and that included a stop by to visit her BFF Jimmy Fallon on The Tonight Show. They played the "Best Friends Challenge" and while they know in their hearts that they're besties, they came up with a goose egg on reading each others' minds.
Last night, Fallon aired the hilarious "Lip Sync Conversation With Demi Lovato," where the two mainly communicated with song clips, touching on some great pop hits, including Adele's "Hello," "It Ain't Me" (featuring Lovato pal Selena Gomez), and even some Taylor Swift. There's a bit of One Direction love with Niall Horan's "Slow Hands" and Harry Styles' "Sign of the Times," too.
Lovato was active on Twitter today, throwing out a little hint at the tour that's to come. She is really building the excitement in a huge way!
When a fan tweeted, "I can't wait for Demi's tour," she noted: "Mood."
Another fan tweeted, "I really hope Demi comes near me on tour. I miss her" and Lovato responded, "Hmmmm me too! Where are you??"
She also retweeted a tweet about tour merch, adding, "New merch AND don't forget you'll get early tour ticket access too if you pre-order here."
Does this all mean an official tour announcement is coming soon? Let's do this.
Check out the entire Gen Why series and other videos on Facebook and the Bustle app across Apple TV, Roku, and Amazon Fire TV.