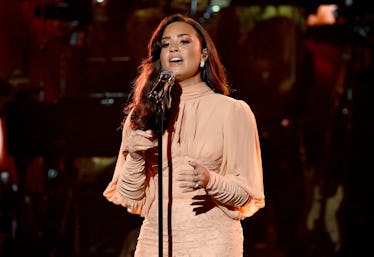 Demi Lovato Opens Up About Dating Men & Women: "I Am Open To Human Connection"
Kevin Winter/One Voice: Somos Live!/Getty Images Entertainment/Getty Images
Demi Lovato's documentary, Simply Complicated, lands on YouTube at 10 a.m. PT on Oct. 17, and among the many honest admissions that the singer makes is about her dating life. You may recall that when asked about her sexuality recently, she tweeted that it's really nobody's business and pointed the curious to her documentary if they really must know. Demi Lovato's sexuality is beyond labels, she explained.
Lovato is really just looking for a "connection" and labels about sexuality aren't important. In the documentary, she explains: "I am on a dating app with both guys and girls. I am open to human connection, so whether that's through a male or a female, it doesn't matter to me."
Last month, when asked about her sexuality, the "Sorry Not Sorry" singer took to Twitter to clear the air, tweeting: "Just because I'm refuse to label myself for the sake of a headline doesn't mean I'm not going to stand up for what I believe in."
She added: "If you're that curious about my sexuality, watch my documentary. But I don't owe anybody anything."
The inquiry came on the heels of Lovato spotted holding hands with DJ Lauren Abedini at Disneyland. Lovato told Pride Source magazine, "I love who I love," adding:
I just feel like everyone's always looking for a headline and they always want their magazine or TV show or whatever to be the one to break what my sexuality is. I feel like it's irrelevant to what my music is all about. I stand up for the things that I believe in and the things that I'm passionate about, but I like to keep my personal life as private as possible when it comes to dating and sexuality and all that stuff just because it has nothing to do with my music. Unfortunately, we live in a world where everyone is trying to get that soundbite and I am purposefully not giving the soundbite. Watch my documentary.
She's not wrong. Lovato is trying to keep some bit of privacy in her life, but yet people are dying to know if she's bisexual. Boundaries, people.
Even back in 2015, when her song "Cool for the Summer" came out, she faced a line of questioning on Alan Carr: Chatty Man while promoting the song, being asked about whether the lyrics were about lesbianism. Lovato answered: "I am not confirming and I'm definitely not denying. All of my songs are based off of personal experiences. I don't think there's anything wrong with experimentation at all."
After Carr joked, "I experimented once and it stuck," Lovato noted, "Hey, I didn't say that it didn't stick either. I didn't say that it didn't stick."
Lovato and her longtime boyfriend Wilmer Valderrama broke up in June 2016, but remain close; she went on to date MMA fighter Guilherme "Bomba" Vasconcelos for five months.
In other Lovato news, she was lucky enough to sit down with some sweet pooches for a BuzzFeed interview. She answered questions from fans, with one wondering which song on her new album is the most personal.
Lovato responded: "I think the most personal song on this album is either 'You Don't Do It for Me Anymore' or 'Ready for Ya.' I think 'Ready for Ya' is a song that I wrote that explains a lot about a breakup that I went through."
Another fan asked for Lovato's advice for dealing with a breakup, and she explained how she works through it: "I deal with a breakup by leaning on my closest friends, and by getting out into the dating scene again. I think that it's important not to dwell on certain things and just to get back out there and have fun."
Watch the full interview video for more of Lovato's super cute interaction with the playful puppies and check out her Demi Lovato: Simply Complicated documentary on YouTube today, Oct. 17.
Check out the entire Gen Why series and other videos on Facebook and the Bustle app across Apple TV, Roku, and Amazon Fire TV.