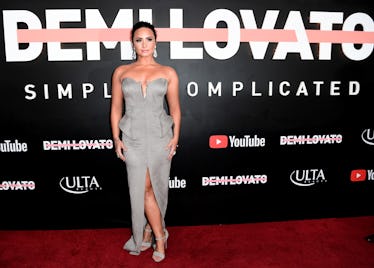 Nick Jonas Opens Up About Demi Lovato Punching Her Back-Up Dancer In New Documentary
Emma McIntyre/Getty Images Entertainment/Getty Images
Demi Lovato is laying it all out there in her new YouTube documentary, Simply Complicated, including some of the areas of her past that most people would want to sweep under the rug and never talk about again. For instance, why did Demi Lovato punch her back-up dancer in 2010? Her documentary reveals more of the details about what happened.
If you recall the incident, Lovato punched dancer Alex Welch in the face and, immediately after, quit the Jonas Brothers tour and entered rehab. At the time, Welch explained what happened, telling People: "To this day, I haven't gotten an apology. I've heard nothing. That's sad if you think that person is your friend."
People further reported at the time that, according to a source close to the singer, Lovato "hasn't been able to call Alex because she is sequestered in treatment, but multiple efforts have been made to reach out to her."
What happened that prompted Lovato to attack her dancer? Welch had explained that the singer "had gotten in trouble" with tour managers for her behavior the previous night and Lovato believed that a dancer had ratted her out. Welch said that Lovato "pulled the dancers in a room and threatened: 'If I find out who told on me...'"
Welch added, "I felt, honestly, I didn't say anything and didn't think twice about it." She never would have expected Lovato's attack, saying,
We were on the plane with the Jonases having this awesome time and I didn't get a call or text from Demi or a 'Hey, you got a problem with me,' nothing. And she walks up and punches me and literally walked away and got in her seat.
Welch further explained, "No one should walk up and do that and brush it over, it's not right." The singer left the tour and entered treatment for "emotional and physical issues," with her rep noting at the time: "Demi feels awful about what happened. Right now, she is 100 percent committed to her treatment."
Welch noted later that year that things were OK between her and Lovato, as she explained to People: "I'm happy. We came to an agreement and I'm ready to move on. I'm ready to start working again."
Nick Jonas was there when Lovato punched the dancer, telling Billboard in a 2016 interview that the Jonas Brothers thought they "were going to get sued," adding, "I mean, it was bad. On top of losing a friend, we have seven dates left, it's a big production, people are expecting to see Demi and that's not going to happen."
Jonas further explained, "I was angry, because a week before I pleaded with her to confide in me. We talked on the plane for two hours." Lovato didn't even remember that conversation.
In this clip from Demi Lovato: Simply Complicated, the singer freely admits: "I was not easy to work with."
Jonas added, "And then this episode happened," in reference to Lovato's attack on the dancer.
Lovato further explained in the documentary:
I was in Colombia. I was on the Camp Rock 2 tour and I invited a bunch of people to dinner, my band and my background dancers. I paid for all the alcohol ... I was on Adderall, and we had trashed the hotel. The hotel was threatening us. They went to some of the dancers and asked what had happened and I think they told on me for using Adderall ... I was very upset, I couldn't believe what had happened. Now it was out that I was on Adderall.
She continued that the next day she was "in a lot of trouble," adding, "I remember going to Kevin Sr. and saying, 'Listen, I want to thank whoever told on me because I know they were just worried about me and I just really want to know who told you.'" Lovato notes that she "manipulated him into telling me who it was."
When he revealed who it was, she explained, "I remember thinking, 'I'm about to beat this b*tch up.'"
Another friend of Lovato's explained the whole scene: "Demi walks up on to the plane... I turned around, and Demi had punched her backup dancer in the face."
Lovato noted that the incident was "a blur." She said, "Everyone was freaking out. I just remember going and sitting down, texting my mom 'I'm sorry.'"
Lovato recently told Extra of the punching incident: "It wasn't painful to relive it, it just was, sometimes it's a little bit like, I wish I didn't do that, but I take full responsibility for it in this film."
Watch the Demi Lovato: Simply Complicated documentary on YouTube for more about the singer's past struggles and how she found her way out of those darker times.
Check out the entire Gen Why series and other videos on Facebook and the Bustle app across Apple TV, Roku, and Amazon Fire TV.