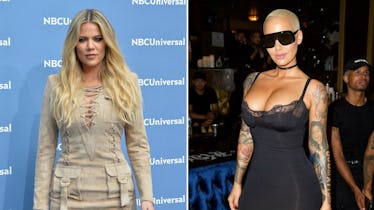 Khloé Kardashian & Amber Rose Have A Ton Of History, So Here's A Breakdown Of Their Feud
Earl Gibson III & Slaven Vlasic/Getty Images Entertainment/Getty Images
It is a rough day in the Kardashian world. If you have access to the internet, you've probably heard the reports suggesting Tristan Thompson cheated on his pregnant girlfriend, Khloé Kardashian. To be honest, it's a pretty devastating rumor. Thompson and Kardashian truly seem to be the real deal, and if the reports are true, this is crushing. Weirdly, after a long tumultuous history, longtime family frenemy Amber Rose might have offered words of support to Khloé. So, what happened between Khloé Kardashian and Amber Rose, exactly? To make the understatement of the year — it's complicated.
The Daily Mail has released video footage of Thompson out with another woman in NYC from the weekend of April 8. The video seems to show Thompson speaking to the woman, and The Daily Mail claims Thompson and the woman are kissing. Elite Daily has reached out to Kardashian's and Thompson's teams for comment on the cheating rumors, but did not hear back by time of publication.
If you've kept up with the Kardashians at all in the past decade, you know their inner circle is rife with drama. Model and actress Amber Rose has strangely been in the center, and has had her fair share of public feuds with many of the family members. This includes Khloé. Their history is a winding, twirling mess of angry tweets, passive aggressive comments, and full-on insults. To be honest, it's exhausting. Here's a breakdown of WTF happened between Khloé and Amber.
The Key Players
To understand the fight between Khloé and Amber, you have to understand how they know each other at all. Here is the clearest way I can break this down:
Everybody with me? It's a lot-a lot, right? If at any point you get lost during the rest of this article, you can always refer back to these bullet points.
The Great Social Media Feud Of 2015
Now that you know Rose is so tight with Blac Chyna, you'll understand how she and Khloé eventually engaged in one of the best Twitter feuds of all time. In 2015, Rose stopped by The Breakfast Club radio show to talk about her friend's ex, Tyga, and his new relationship with Kylie Jenner. Rose said,
Kylie's a baby. She needs to go to bed at 7 o'clock and relax ... That's ridiculous. [Tyga] should be ashamed of himself. That's how I feel, for sure ... He has a beautiful woman and a baby. And left that for a 16-year-old that just turned 17.
These comments did not sit well with Khloé. She immediately took to Twitter to call Rose out, sinisterly tweeting, "People who live in glass houses shouldn't throw stones."
Khloé's Twitter rant went something like this:
Rose replied to Kardashian's "rant" with one simple message. "#Don'tPanic"
This comment was extra shady, because "Don't Panic" is also the name of a song written by Kardashian's boyfriend at the time, French Montana.
Later, Rose tweeted a message clearly directed at Kardashian as it referenced an old rumor that O.J. Simpson was actually Khloé's biological father. (The Kardashians and Simpson have obviously denied this.)
OMG the layers, am I right? Eventually, Rose tweeted she was done "dragging" Khloé, and the feud seemed to be set to *simmer* after that.
Where They're At Today
Now, it's 2018 and Kardashian is pregnant with her first child. She and Tristan Thompson have been the epitome of happy, and these cheating rumors are the F-ing worst. Kardashian has yet to comment on the rumors, but Amber Rose has.
Rose posted this supportive message on her Instagram story on April 10.
I know we've had our differences in the past but my heart is broken for you sis. Smh no one deserves to feel that pain especially during such a sensitive time. God bless you and your baby.
While Rose didn't call out Kardashian directly, a rep confirmed to Entertainment Tonight the message was for Khloé.
I'm exhausted. Are you guys exhausted?
Wherever both Amber Rose and Khloé Kardashian are, I'm wishing them peace, happiness, and a drama-free day. If that's even a possible thing...
Ugh. Why is everything so hard?
Check out the entire Gen Why series and other videos on Facebook and the Bustle app across Apple TV, Roku, and Amazon Fire TV.