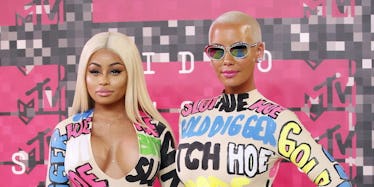 Amber Rose Just Got Way Too Real About Blac Chyna's Pregnancy Sex Drive
REUTERS
Thanks to Amber Rose, I know a lot more than I should, way too much TBH, about how much Blac Chyna wants to have sex while pregnant.
In a clip from her new show on VH1, the "Amber Rose Show," Amber Rose was interviewing plus-size model Tess Holliday about being horny and wanting to have sex while pregnant.
Rose straight-up asks Holliday, "Were you horny when you were pregnant?" and Holliday responds, "We had sex two days before I went to have the baby." Holliday adds that she constantly wanted to have sex while she was pregnant.
Here's the key moment where I learned too much information about Blac Chyna. In her surprise at learning this about Holliday, Rose shares how she was not super into sex when she was pregnant, but that she understands how one could be horny and pregnant at the same time. How does she understand this if she herself was not into having a lot of sex while pregnant, you ask?
Well, admitting the comment might get her into hot water, Amber Rose goes on to explain how Blac Chyna wants to have pregnant sex all the time.
Rose says of Chyna, who is currently expecting a baby with Rob Kardashian,
She says she's always horny all the time. Sorry, Chy!
Great. Now we all know that about Blac Chyna and Rob Kardashian. Good for you, Rob, and good for you, Chyna.
Hey, at least Amber Rose apologized like a decent friend who shares TMI about another friend.
In the rest of the clip, Rose jokes about having sex during her own pregnancy, and it's actually kind of funny.
Actually, the whole conversation is pretty funny, so check out the rest of it in the clip at the top and tune into VH1 on Fridays at 11 pm to catch more of the "Amber Rose Show."
Citations: Amber Rose Reveals TMI About Pregnant Blac Chyna, Rob Kardashian's Sex Life (Us Weekly)