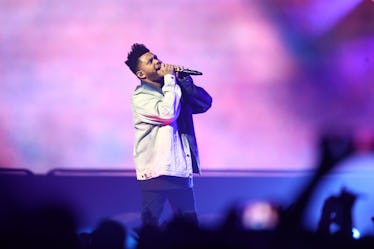 The Weeknd Got Emotional While Singing About Selena At Coachella & I'm Sobbing
Phil Walter/Getty Images Entertainment/Getty Images
Back in October when reports alleged that Selena Gomez had been hanging out with her ex-boyfriend Justin Bieber while she was still dating The Weeknd, everyone was wondering just how the "Starboy" singer felt about their reconnection. Gomez and The Weeknd (whose real name is Abel Tesfaye) ultimately ended up breaking up. Aside from infuriating their fans, the breakup seems to have helped shape The Weeknd's latest album, My Dear Melancholy,. On April 13, while performing a song on from the project, he had a total breakdown — and videos of The Weeknd's Coachella performance have finally given us a glimpse of how he's really feeling post-breakup.
During his performance of "Call Out My Name," the singer completely lost it and started choking up on stage. According to Cosmopolitan, he had trouble getting through certain lyrics like, "And when times were rough, when times were rough/I made sure I held you close to me."
If your heart isn't already breaking, just wait until you see the footage. Audience members took to Twitter to post a series of videos from the singer's set, highlighting the emotions that radiated from the stage, including his quivering voice. If you ask me, he was clearly on the edge of sobbing, but I'll let you see for yourself.
Ugh. Now I'm crying.
Elle reported that the singer also sang "Wasted Times," a song rumored to be about his other ex, Bella Hadid. In the song, he sings about wasting time "with someone else" (*cough* Selena *cough*), but can't forget about his old thing.
But there are tons of other songs from his new album, which was released on March 30, that are reportedly about his exes. Recently, fans have speculated that his song "Privilege," in which he sings about helping someone through tough times, was another track about Gomez. He sings,
And I don't wanna hear that you are suffering. You are suffering no more. 'Cause I held you down when you were suffering. You were suffering. Blues away, away away. I got two red pills to take the blues away, away, away
I don't know about you, but IMO, this album has Selena written all over it, because she's definitely had her fair share of "suffering." In February, E! News reported that she had completed a "two-week treatment program for depression and anxiety." She's also battled with Lupus for years, which prompted her to get a kidney transplant and take time away from music.
The Weeknd and Gomez were still together throughout her complications with Lupus, but reportedly ended things in late 2017 — around the same time she'd started hanging out with her off-and-on beau Justin Bieber. However, in October 2017, a source told People that their busy schedules contributed to their separation — not any ex-boyfriend drama. The insider explained,
She [Selena] and Abel have been going back and forth for a few months about their relationship. It's been hard with him being on tour and her shooting in New York. That wasn't easy on them.
But fans weren't feeling the claims, because the timing was just... bad. Initially, when Gomez and Bieber started hanging out, a source said that the relationship was only friendly, however, the two got back together soon after the "Wolves" singer split from The Weeknd.
After having a happy romance go south, channeling all of his emotions into his music and having to relive those experiences every single time he gets on stage, I can see why The Weeknd had a moment. But in time, I'm sure he'll move on from his pain and performing these songs will be a breeze for him. Besides, he has a huge fanbase that'll be by his side every step of the way.