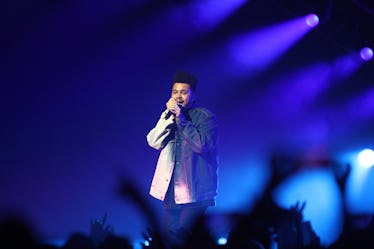 This Song On The Weeknd's New Album Is Clearly About One Of His Exes & I'm Shook
Phil Walter/Getty Images Entertainment/Getty Images
The Weeknd finally released his new album on Friday, March 30, and if you haven't heard it yet, get ready to break out the tissues because it is deep. The Starboy singer isn't holding anything back on his latest album, My Dear Melancholy, and he's even spilling the tea about his past relationships. In "Privilege," he sings, "Enjoy your privileged life, Cause I'm not gonna hold you through the night." I'm shook — is he referring to Selena Gomez? Bella Hadid? Someone else? The Weeknd's "Privilege" lyrics are clearly about one of his exes, and I'm going to figure out which one even if it kills me.
On the one hand, "Privilege" could definitely be another song on My Dear Melancholy dedicated to Selena Gomez. The Weeknd's new album dropped less than six months after Gomez reportedly broke up with him to go back to on-and-off ex Justin Bieber, so it's not surprising that the "Can't Feel My Face" singer would tap into that heartbreak in the studio. Throughout "Privilege" The Weeknd sings about helping someone through tough times:
And I don't wanna hear that you are suffering. You are suffering no more. 'Cause I held you down when you were suffering. You were suffering. Blues away, away away. I got two red pills to take the blues away, away, away.
Could The Weeknd be referring to Gomez's struggle with anxiety and depression? In February 2018, E! News reported that the singer had recently completed a "two-week treatment program for depression and anxiety." This should come as no surprise for anyone who's been following Gomez through 2017 — she battled Lupus all year, which culminated in the kidney transplant, a process that her donor and friend Francia Raisa said was "very hard" on both of them. "Selena and I both went through a depression, she had some complications with hers, and she has bigger scars than I do that wasn't expected," said Raisa in a video from Self. No matter what happened, it's good to see that both Gomez and Raisa are getting the help they need and acting with their own self-care in mind.
Elite Daily reached out to both Gomez's and The Weeknd's teams for confirmation that the song is about her, but did not hear back by the time of publication.
On the other hand, "Privilege" could also very well be about Bella Hadid, The Weeknd's supermodel ex. Hadid obviously comes from a very well-off family, and she's definitely more turned into the socialite scene than Gomez, hence The Weeknd's comments about her "privilege." After noting her privilege in the song's first verse, the Starboy singer says, "We said our last goodbyes, so, let's just try to end it with a smile." The couple dated for about a year from late 2015 to November 2016, but they ended on good terms. In November 2016, an unnamed source told People that scheduling issues ultimately broke them up, but "they still have a great deal of love for one another and will remain friends." It definitely seems like these two will be able to end their relationship "with a smile" (or maybe get back together?), making it possible that "Privilege" is about Hadid, as well.
Elite Daily also reached out to Bella Hadid's team for confirmation that she's the inspiration for "Privileged," but did not hear back by the time of publication.
While it's still unclear whether "Privileged" is about Gomez or Hadid, one thing is certain: The Weeknd produced an absolute banger of an album. My Dear Melancholy is a soulful reflection on love and lust, and in true The Weeknd form, the highs are just as amazing as the lows. Get your Spotify playlists ready, because these tracks are about to blow your mind all year long.