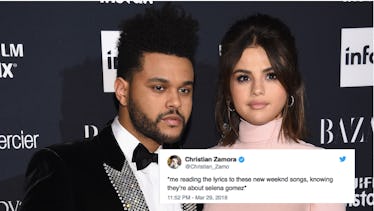 The Weeknd Dropped An Album & Fans Are Convinced These Lyrics Are About Selena Gomez
Dimitrios Kambouris/Getty Images Entertainment/Getty Images
The Weeknd released his latest album called My Dear Melancholy on March 30, and like, finally! Of course, the Starboy singer's fans, while super-pumped to check out the new tunes, were also quick to point out that one of the songs, "Call Out My Name," seems to be about a certain former ex-girlfriend. Sample lyric: "We found each other, I helped you out of a broken place. You gave me comfort, but falling for you was my mistake." Uh-oh! Sounds like someone is not over the failed relationship and is now spilling some major tea! No surprise, The Weeknd's lyrics about Selena Gomez on his album have fans screaming — and the theories about the seemingly heartbroken verses are swirling nonstop. Elite Daily reached out to The Weeknd and Gomez's teams for comment but did not hear back by the time of publication.
See, The Weeknd's My Dear Melancholy drop comes just a few months after the "It Ain't Me" singer reportedly left him in October 2017 to rekindle her relationship with Justin Bieber. Which is why it was only a matter of time before fans of both singers started pouring over the album's songs and lyrics for proof of The Weeknd's anguish. And judging from the resulting posts on social media, the song "Call Out My Name" delivered the goods in a big way.
Pretty open and shut case, right? I mean, he really does seems to be talking about Selena, and it's all just totally heartbreaking! Oh, and get this: Fans seem to think the lyrics of verse two of the song make a reference to Selena's kidney transplant — and to the fact that The Weeknd was almost a donor! I repeat, fans think The Weeknd was almost Selena's kidney donor. So, like, why oh why is she not still with him?
Here's the lyric in question: "I said I didn't feel nothing baby, but I lied. I almost cut a piece of myself for your life. Guess I was just another pitstop. Til' you made up your mind."
He almost cut a piece of himself, you guys! For her life. I'm not crying, you're crying! And so, apparently, are The Weeknd's fans on Twitter:
Wow. I don't know about you guys, but if my boyfriend offered to give me one of his kidneys, I'd probably want to keep him around. But hey, maybe that's just me.
Of course, by now we all know that it was Selena's friend, Grownish actress Francia Raisa, who actually gave the singer a kidney. Selena shared the news that she had had a kidney transplant as part of her treatment for lupus in a moving Instagram post back in September 2017.
"I'm very aware some of my fans had noticed I was laying low for part of the summer and questioning why I wasn't promoting my new music, which I was extremely proud of," she wrote. "So I found out I needed to get a kidney transplant due to my Lupus and was recovering. It was what I needed to do for my overall health. I want to publicly thank my family and incredible team of doctors for everything they have done for me prior to and post-surgery. And finally, there aren't words to describe how I can possibly thank my beautiful friend Francia Raisa. She gave me the ultimate gift and sacrifice by donating her kidney to me. I am incredibly blessed. I love you so much sis."
Since Selena's transplant, she's continued to give Francia props for saving her life. Check out what she said in November 2017 during her Billboard award acceptance speech:
"To be honest, I think Francia should be getting this award because she saved my life," Selena said. "I feel incredibly lucky."
Pretty incredible. I can't even begin to imagine what feels like to receive the gift of a kidney from a boyfriend or a best friend, but I'm just so glad Selena is OK. And TBH, I find it comforting to know there are such amazingly generous souls like Francia (and The Weeknd, if he really did offer up his own kidney) out there roaming the world.