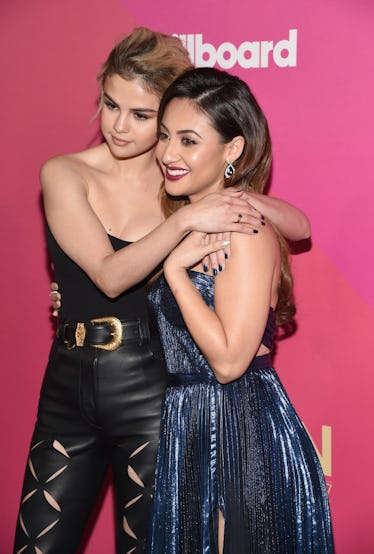 Selena Gomez Teared Up While Dedicated This Award To Her Kidney Donor – VIDEO
Michael Kovac/Getty Images Entertainment/Getty Images
Selena Gomez has had one hell of a 2017, and this latest news just shows she's risen above it all and come out on top. The "Wolves" singer was honored with Billboard's 2017 Woman of the Year award on Thursday, Nov. 30 and her acceptance speech has everyone in tears. Gomez was super emotional and she had one special person to thank for the award. The video of Selena Gomez dedicating her award to Francia Raisa is the most beautiful thing you'll see today.
On Sept. 14, 2017, Gomez took to Instagram to inform the world that she had undergone a life-saving kidney transplant. That transplant was made possible by Francia Raisa. Gomez wrote:
I'm very aware some of my fans had noticed I was laying low for part of the summer and questioning why I wasn't promoting my new music, which I was extremely proud of. So I found out I needed to get a kidney transplant due to my Lupus and was recovering. It was what I needed to do for my overall health. I honestly look forward to sharing with you, soon my journey through these past several months as I have always wanted to do with you. Until then I want to publicly thank my family and incredible team of doctors for everything they have done for me prior to and post-surgery. And finally, there aren't words to describe how I can possibly thank my beautiful friend Francia Raisa. She gave me the ultimate gift and sacrifice by donating her kidney to me. I am incredibly blessed. I love you so much sis. Lupus continues to be very misunderstood but progress is being made. For more information regarding Lupus please go to the Lupus Research Alliance website: www.lupusresearch.org/ -by grace through faith.
Who is Francia Raisa? She's an actress (she was formerly on The Secret Life Of The American Teenager) and Gomez's best friend. They go way back, before Gomez even knew of a little blonde Canadian boy named Justin Bieber.
Gomez was sure to thank Raisa in her acceptance speech for her Billboard award. She said,
To be honest, I think Francia should be getting this award because she saved my life. I feel incredibly lucky ... honestly I couldn't be more grateful for the position that I've been given in my career, from 7 to 14 to now. I want people to know that I respect the platform that I have so deeply because I knew that I wanted to be a part of something great and I want people to feel great because I love people. But, specifically, this year I would like to thank my amazing team and my family because they stuck with me through some really hard times. And, I got to do a lot of stuff this year even though I had a couple of other things to do.
Gomez continued, saying she was grateful to be a woman in the music industry and thanked those who paved the way for her.
I've never felt more proud to be a woman in this industry than I do today, and that's because I actually feel comfortable with every single woman that has encouraged me ... I'm so grateful for all the older women who have lifted all of us because I wouldn't be here without any of you. So, thank you for all of you who have inspired so many girls who don't feel like they have a voice.
Raisa was right by Gomez's side at the awards gala. On the pink carpet, Raisa spoke to Billboard about her experience donating a kidney to Gomez. She said,
I was just glad I was able to do [it]. I'm glad I was a match. She's standing here and being honored and I've seen her career continue to soar, it's amazing.
Name a more iconic duo, really. I'll wait.