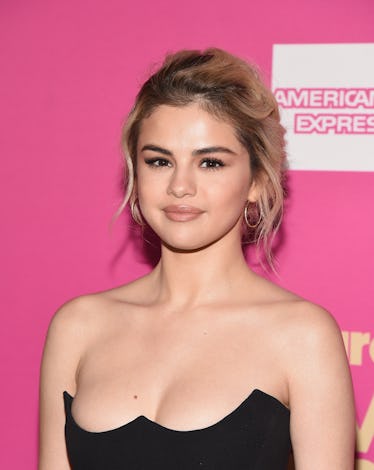 Selena Gomez Reportedly Just Completed Treatment For Anxiety & Depression
Michael Kovac/Getty Images Entertainment/Getty Images
It's quite empowering to see that celebrities are opening up about their physical and mental health, because it's important for everyone to realize that the rich and famous are just as susceptible to things like anxiety and depression as the average person. One person who shares this battle is Selena Gomez, who reportedly received treatment for anxiety and depression.
According to E! News, a source has confirmed that the singer has "recently completed a two-week treatment program for depression and anxiety," and the source added that "She had a difficult year, especially towards the end, and she decided she wanted to spend some time focusing on herself." E! News was reportedly told that Gomez sought professional help in New York City, and that Justin Bieber fully supported her decision to get treatment.
Elite Daily reached out to Selena Gomez's team for confirmation on the report, but did not hear back by the time of publication.
Gomez has remained pretty quiet on social media since the new year, and many fans have been wondering why she's been staying out of the limelight. Whether or not her treatment program has anything to do with it is unclear, but her fans are here to support her no matter what — even if that means that Selena lays low for a while, so she can take that time to heal and recharge:
Gomez had an incredibly difficult year in 2017 — after remaining quiet for most of the year, she took to Instagram in September to let her fans know that she had undergone a kidney transplant that saved her life, made possible by her friend, actress Francia Raisa. She wrote:
I'm very aware some of my fans had noticed I was laying low for part of the summer and questioning why I wasn't promoting my new music, which I was extremely proud of. So I found out I needed to get a kidney transplant due to my Lupus and was recovering. It was what I needed to do for my overall health. I honestly look forward to sharing with you, soon my journey through these past several months as I have always wanted to do with you. Until then I want to publicly thank my family and incredible team of doctors for everything they have done for me prior to and post-surgery. And finally, there aren't words to describe how I can possibly thank my beautiful friend Francia Raisa. She gave me the ultimate gift and sacrifice by donating her kidney to me. I am incredibly blessed. I love you so much sis. Lupus continues to be very misunderstood but progress is being made. For more information regarding Lupus please go to the Lupus Research Alliance website: www.lupusresearch.org/ -by grace through faith.
Then, photos and videos of Justin Bieber and Selena started to surface late in 2017, leading many to believe that the on-again, off-again couple were back together once more, a choice in which many people (including Gomez's mom) disagreed with.
But Gomez openly voiced her opinion on her decision to get back with Justin Bieber, and, in an interview with Billboard, she said,
Look, my family is great, my health is great and I love deeply and I think that's just who I am, so I'm not really ashamed.
If it makes you happy, then why does it matter what anyone else feels about the situation?
Plus, it seems that Bieber seems to be doing everything he can to help Selena — the pair were most recently spotted leaving a Bible study group together in Ventura, California, and if that isn't a good influence, then I'm not sure what is.
While there's no quick remedy for things like anxiety and depression, being around people who love and support you is key in aiding recovery. It appears that Justin is doing everything he can, and for that reason, we completely support Selena's choices.
We hope Selena continues to find health and wellness in 2018.