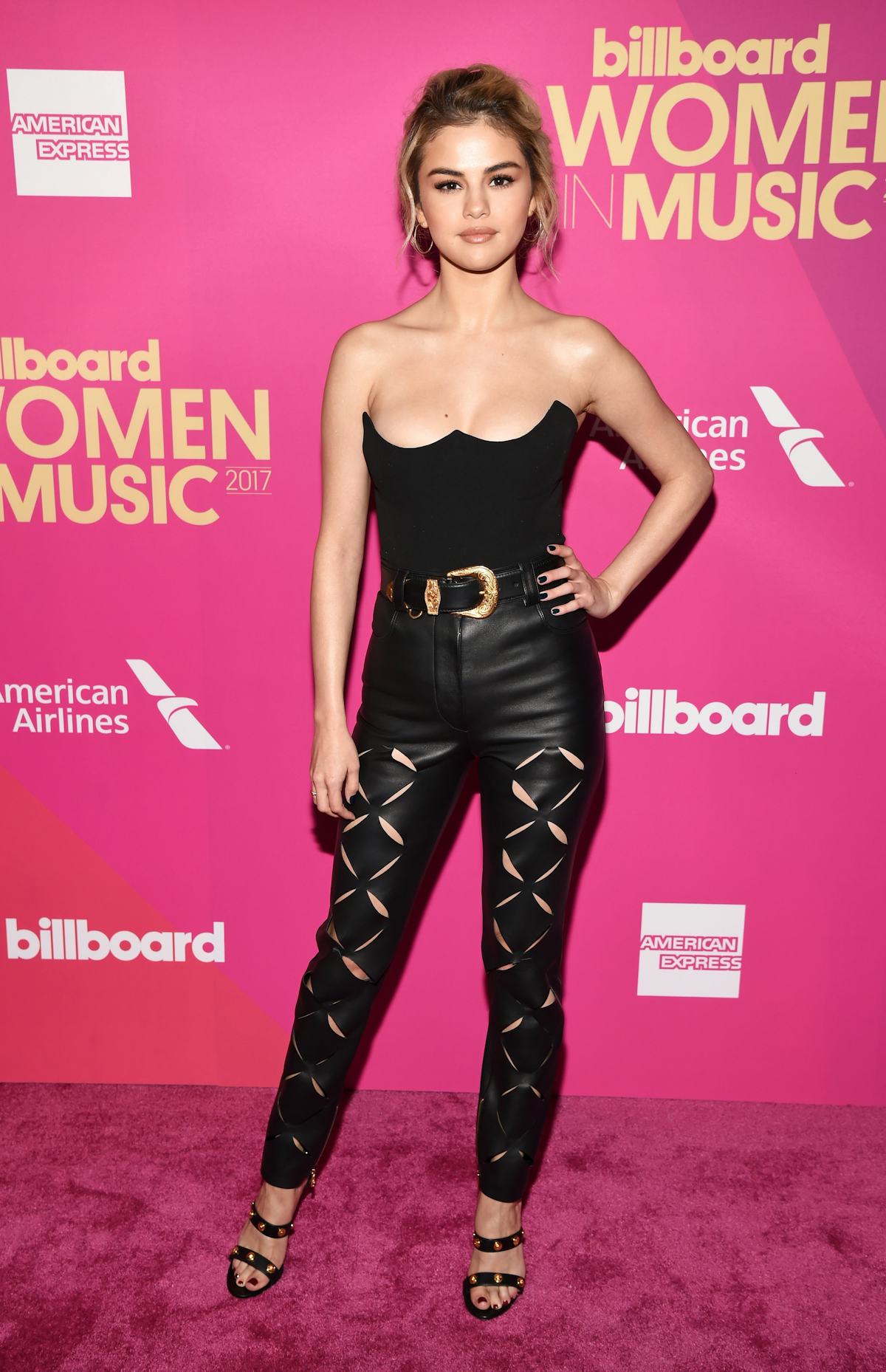 Selena Gomez Is "Not Really Ashamed" Of Dating Justin Bieber & We're Here For It
Michael Kovac/Getty Images Entertainment/Getty Images
Spoiler alert: Selena Gomez and Justin Bieber are totally a thing now, and everyone should be fully supportive of it. We know, we know: they're on-again, they're off-again, they make up then break up. But they're older now, and wiser, or at least it certainly seems that way. When she was on the red carpet before accepting Billboard's Woman of the Year award, Gomez got pretty candid about all of things that have been going on in her life — her love life, in particular. So when Selena Gomez said dating Justin Bieber is something she's "not really ashamed" about, she got very vocal on why people shouldn't care about her personal life — and she raised some startlingly good points.
As you all know, the universe went absolutely nuts when photos surfaced of Selena and Justin hanging out in October, right after she announced her split from The Weeknd. Those who shipped Jelena became ecstatic, hoping and praying that this day would come, thinking that the pair was destined to be together. And they got their way just one month later, when a photo of the two was shared on social media: Bieber, seen in a hockey uniform, was seen kissing a happy-looking Selena, cheering him on from the stands:
And even though Justin and Selena's relationship timeline is enough to make anyone want to rip their hair out, I'm just going to say it: they're young, and they're in love, and so what if you don't like it?
Apparently, Selena feels the exact same way.
In her interview with Billboard, Selena opened up about why she simply doesn't understand the fascination the public has with her romantic life:
I mean I don't think anybody truly, actually cares ... I think for me what's been great is that I've been able to live the life that I've wanted for myself. And that doesn't always look the way people maybe think it should look, but it's not really my concern anymore.
She added:
Look, my family is great, my health is great and I love deeply and I think that's just who I am, so I'm not really ashamed.
GIRL, YES.
PREACH.
It sheds a lot of light on who she is as a person, and, in a previous interview with Billboard Magazine, Gomez mirrors this sentiment. When asked "what brought Justin back" into her life, she replied honestly:
I'm 25. I'm not 18, or 19, or 20. I cherish people who have really impacted my life. So maybe before, it could have been forcing something that wasn't right. But that doesn't mean caring for someone ever goes away. And [that goes for] people in general. I mean, I grew up with Demi [Lovato]. Nick and Joe [Jonas] and Miley [Cyrus] -- we've gone through seasons in our lives. I don't think it's as serious as people make things out to be half the time. It's just my life.
See what I said about getting older and wiser? Selena is spitting out some serious truth right there.
And look: Selena's had quite a year. Back in September, she took to Instagram to explain why she was staying pretty much out of the media entirely: Gomez had to undergo a kidney transplant due to her battle with Lupus:
I'm very aware some of my fans had noticed I was laying low for part of the summer and questioning why I wasn't promoting my new music, which I was extremely proud of. So I found out I needed to get a kidney transplant due to my Lupus and was recovering. It was what I needed to do for my overall health. I honestly look forward to sharing with you, soon my journey through these past several months as I have always wanted to do with you. Until then I want to publicly thank my family and incredible team of doctors for everything they have done for me prior to and post-surgery. And finally, there aren't words to describe how I can possibly thank my beautiful friend Francia Raisa. She gave me the ultimate gift and sacrifice by donating her kidney to me. I am incredibly blessed. I love you so much sis. Lupus continues to be very misunderstood but progress is being made. For more information regarding Lupus please go to the Lupus Research Alliance website: www.lupusresearch.org/ -by grace through faith.
Her year has clearly been a journey of ups and downs, and it's refreshing to see someone speaking so honestly about their personal life. I think we should all give Selena some credit for giving a major shrug to all the doubters (because we all know that can't be easy) and living her best life on her terms.
Keep on keeping on, girl. We've got your back.