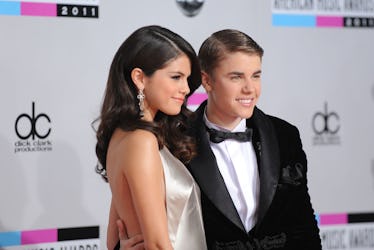 These Photos Of Justin Bieber & Selena Gomez Leaving Bible Study Will Make You Scream
Jason Merritt/TERM/Getty Images Entertainment/Getty Images
Have you been more than just a little worried because your spirit animals, Justin Bieber and Selena Gomez, have been pretty much off the radar so far this year? Well, don't worry, you guys. We've got some great news that shows Jelena is alive and well in 2018. Apparently, Selena Gomez and Justin Bieber are attending Bible study together, which means that we are quite literally blessed with the news that our fave couple are doing pretty big things together. Hallelujah!
Their most frequent outing shows Justin and Selena on Jan. 31 attending and then leaving a Bible study together in Ventura, California, and it seems that the couple is stronger than ever before. After having an on-again, off-again, relationship for years, a source tells E! News that "Justin and Selena are still going strong," and that "everything is so different this time around." A second source added, "They are still together," and that they "speak all the time when they are not together."
D'aww! Young love. So sweet. So Unconditional. So Jelena.
You can check out photos of the adorable couple leaving church here, but there's also a video of the love birds, captured by another church-goer, and it is absolute perfection. It shows the Biebs and Gomez wayyy up in the front row (like the good Catholics they are, I suppose), and we get to see Bieber ever-so-delicately not keeping his hands to himself, stroking Gomez's hair in a total romantic-boyfriend sort of way:
See that? Can't even blame him because I bet Selena's hair is like, ridiculously silky and soft.
This isn't the first time that we've been gifted with Justin and Selena attending church, either. Back in November of 2017, they attended two services in just one weekend at Hillsong Church in Los Angeles, according to Cosmopolitan, so to see them once more having a date night in church is actually kind of adorable.
And, like every good date, theirs ended at where other than Bieber's fave destination: an ice hockey rink, duh.
Remember the time that he didn't celebrate Thanksgiving with Selena's family? That's because he was doing a little thing called "hockey". But hey, at least he spent New Years with Selena, so that counts for something, right?
Anyway.
It seems like he just can't get enough of the sport, and apparently, neither can Selena, since she's seen cheering him on like, every single time he plays (seriously, what a good girlfriend). But at this most recent outing, fans cared less about Bieber on the ice, and were all about the "Wolves" singer. Photos on social media show that Selena was the number one attraction for that evening:
Selena = life.
While Selena and Justin didn't attend the 2018 Grammys, which was, by all accounts, devastating, we at least are lucky enough to know that the two are still going strong. Even though some people are less than pleased now that these two are back together (like Selena's mom, Teefy, who has expressed her thoughts on the couple's relationship), I, for one, am pretty ecstatic about the whole thing.
Who knows where we'll see Jelena off to next? Perhaps a library, where they can kiss behind bookshelves, or maybe we'll spot them together in the gym, because a couple that sweats together, stays together (but a couple who eats chips on the couch together also stays together, so keep that in mind). Regardless of where they go next, all I'm going to say is that we should consider these photos of the couple attending Bible study church a heaven-sent miracle.
Justin and Selena, you're making us all feel #blessed.