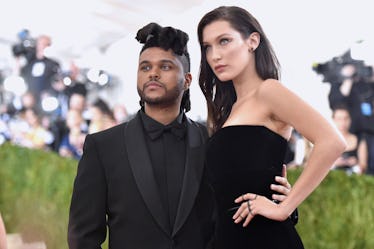 The Weeknd's Lyrics About Bella Hadid Will Make You Want Them To Get Back Together
Mike Coppola/Getty Images Entertainment/Getty Images
The Weeknd released his new album My Dear Melancholy on March 29, and fans couldn't wait to point out that some of the songs seem to give listeners all the gory deets on his relationships with exes Selena Gomez and Bella Hadid. Elite Daily reached out to The Weeknd, Hadid, and Gomez's teams for comment but did not hear back by the time of publication. I guess it's the price you pay for dating a musician, right? Anyway, the song that seems to be referencing his supermodel ex-girlfriend is called "Wasted Times." And lemme just say that The Weeknd's lyrics about Bella Hadid will make you want the two of them to get back together ASAP.
For starters, check out the first two lines in verse one of the song: "Wasted times I spent with someone else. She wasn't even half of you." Is this a dig at Selena? And about the fact that The Weeknd thinks she wasn't half the girlfriend Bella was? Because check out this lyric from verse two: "You were equestrian, so ride it like a champion." Since Bella makes no secret about her love for riding horses, fans took to Twitter to promote the theory that "Wasted Times" is all about the fact that The Weeknd is still in love with his horseback-riding ex-girlfriend.
Yeah, can they? Before they broke up back in November 2016, the two of them were actually super cute together. They met at Coachella in 2015 after Bella's sister Gigi introduced them, and then made their first appearance as a couple on the red carpet at the 2016 Grammy Awards, where The Weeknd took home two awards for Best R&B Performance and Best Urban Contemporary Album.
"It was a big night for him," Bella told Glamour at the time. "He has worked so hard, and he did so well that night. As a girlfriend I wanted to be there to support him. Seeing him so happy when he won a Grammy made me so happy."
Awww! So why did this gorgeous power couple even break up after a solid year-and-a-half together in the first place? Here's what an unnamed source told People in November 2016:
Their schedules have been too hard to coordinate and he is focusing on finishing and promoting his album. They still have a great deal of love for one another and will remain friends.
Those damn scheduling conflicts will get you every time! Meanwhile, about a month after the split, Bella told Teen Vogue that The Weeknd was actually her very first breakup ever!
"It was my first breakup...and so public," she said. "As an outsider, you might think I handled it so well, but it's always in your heart, and you always feel it very heavily. It'll be hard for a while. Love hurts, but you have to pull through. I'll always respect him, and I'll always love him. Sometimes you want to be sad about it or handle it differently, but at the end of the day, you never want to burn a bridge that you've fought so hard to build."
Wow! Such a mature statement. And not only is that some great advice for getting through a breakup right there, but it kind of sounds like Bella was leaving the door open for a little romance rekindling down the road, doesn't it? Could now be the time? I'm not so sure. But fans of the couple on Twitter are totally rooting for this romance!
I guess only time will tell if these two decide to give it another go. And until then, I'm pretty sure our horse-loving girl will be just fine.