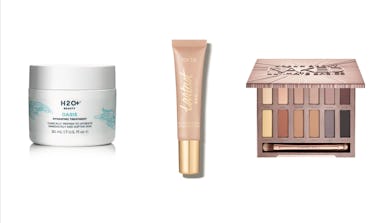 Ulta's Summer Sale Has Finds For Up To 60 Percent Off, So Please Just Take My Money
Ulta
This year, it seems like everyone is a little bit confused about when to celebrate the Fourth of July, considering it's on a Wednesday. Do we celebrate the weekend before? The weekend after? The whole week? The entire month? Well, while the average American ponders over when to celebrate, beauty lovers will be busy turning up at Ulta's summer sale. From now until 11:59 p.m. CT on Wednesday, July 4, one of Ulta's biggest sales of the season is happening both in-store and online. So even if your work schedule doesn't allow you to jet off to the beach for the mid-week holiday, you can still celebrate with up to 60 percent off haircare products and up to 50 percent off mass-market cosmetics and skincare finds.
Any true beauty junkie knows that the best time to restock their vanity is during an Ulta sale, whether it's their famed 21 Days of Beauty Sale on almost everything in the store, the Love Your Skin Sale on skincare, or the Gorgeous Hair Event which offers sales on any and all hair products. But there's something about Ulta's summer sale that allows you to stock up on all of the season's hottest beauty products while saving a ton of money that makes it that much more exciting. Maybe it's because I know personally that the money I'm saving on liters of hair products and face masks to detox my summer skin I can spend on rosé at happy hour instead, and that alone is reason to celebrate.
But as awesome as the Ulta Summer Sale is, the entire sale only lasts for a few days, so the deals of the season will come and go extremely fast. To make sure you can get the best deals before they're gone, let's cut to the chase and break down the best discounted hair, skin, and makeup buys that the beauty giant has to offer, so you can load up your cart and save tons of money in the process.
The Best Haircare Products Up To 60 Percent Off:
For color-treated hair:
Along with their Summer Sale, Ulta is actually having a "Jumbo Event," a sale on liters of hair products that continues through July 4 and runs until July 28. So if you plan on spending some time outdoors this summer and you're worried that the sun, chlorine, or other environmental factors will cause discoloration or fading to your color-treated hair, Redken's Color Extend Shampoo will help to protect your color and provide maximum vibrancy.
For damaged hair:
If your hair is over-processed, dry, brittle, or damaged, Biolage's Advanced Keratindose Conditioner is loaded with Pro-Keratin and silk to provide moisture and restoration to hair that is in need of some major T.L.C.
For blondes:
If you've found that the sun has turned your icy blonde strands into a yellowish mane, you're in luck, because Matrix Total Results So Silver Shampoo is now on sale at Ulta. You can cut the brass and restore your hair to its silvery state after just one wash.
For textured hair:
Those with curly hair get to experience one of the biggest savings of Ulta's Summer Sale with Sebastian Twisted Curl Shampoo. Regularly priced around $40, this product is on sale for just $14.99 for the entire liter. With each use, the wash gently cleanses and injects your strands with moisture and elasticity for resilient hair and easy styling.
The Best Skincare Products Up To 50 Percent Off:
Cleanser:
If you're looking to restore your skin's natural glow and wash off the day's impurities and toxins, Skyn Iceland's Glacial Face Wash uses Icelandic glacial waters for a creamy, foaming cleanser that is mild yet still detoxifies and purifies the skin without stripping it of its natural moisture.
Mask:
I'll be the first to admit that sometimes, I get a little bit lazy with my skincare routine, and after having a little too much summertime fun, my skin is in need of a serious detox. Well, luckily, L'Oreal Paris' Detox & Brighten Clay Mask is on sale for 10 bucks, which is truly a small price to pay for the immediate results that you see after just one use. The face mask is packed with charcoal and different clays to rid the skin of impurities, detox, and brighten.
Moisturizer:
If you're looking for a moisturizer to instantly hydrate skin and provide moisture for up to 24 hours after application, then be sure to cop H2O+'s Water-Gel Moisturizer at Ulta's Summer Sale. The lightweight moisturizer is suitable for any skin type and works to condition, protect, and replenish the skin.
The Best Makeup Products Up To 50 Percent Off:
Eyeshadow:
Basic palette fans have plenty to celebrate this Fourth of July with 50 percent off of Urban Decay's Naked Ultimate Basics Palette. The cult-favorite eyeshadow palette features 12 neutral matte shades from nude to cool tones so you can create some fire ~lewks~ that are anything but basic.
Lipstick:
For $10 at Ulta's Summer Sale, you can cop one of Dose of Color's ultra-creamy, full-coverage lipsticks in any shade from neutrals to brights. The creamy lipstick goes on smooth and provides a highly pigmented shade no matter the color you choose for your pout.
Highlighter:
Tarte's PRO Glow Liquid Highlighter is usually $29, but thanks to this sale, you can snag the creamy highlighter for a cool $17. The highlighter can be mixed in with your foundation for an all-over glow or used on its own to build a truly lit look on your cheekbones and cupid's bow.