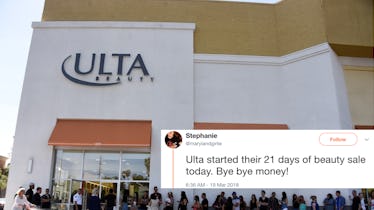 Everyone On Twitter Spent Their Savings At Ulta's 21 Days Of Beauty Sale, & Same
Astrid Stawiarz/Getty Images Entertainment/Getty Images
You guys, I have some good news and bad news. I'll start with the (sorta) bummer news first. You might have missed the first days of Ulta's latest sale that began on Sunday, March 18. The good news, though, is that the sale is three weeks long — so you haven't missed out on that much. Plus, there are so many amazing deals to be had that you'll want to jet over to your closest Ulta ASAP once you see what must-have products are a part of this killer sale. If you need a little more inspiration to drop some discounted dollars on your favorite products, check out these tweets about Ulta's 21 days of beauty sale.
People are straight buzzing about the deals at Ulta right now. There seems to be a consensus that this is pretty much the most wonderful time of the year. Honestly, it's hard to think otherwise when you see some of the discounts on these high-end products. There are different product deals daily, and you can get up to 50 percent off your favorite brands. For example, the Friday, March 23 deals include Urban Decay Eyeshadow Singles selling for $10 (down from $20) and an Exuviance chemical peel for $38.50 (down from $77).
With savings like that, it's no surprise that Twitter is filled with praise for this awesome makeup sale.
"...Can we talk about how GOOD Ulta's 21 days of beauty is this year?!!
"Marked my calendar w/ all the things I want from Ulta bc 21 days of beauty has started & these next 21 days are what's important."
Hype of the sale is coming from even the most unexpected people.
"'Ulta is having a really good sale right now,' my dad."
Hey, it's good to know that dad is always looking out for ya!
Even though people are loving the deals, it seems as though the deals are so good that people want them all. Although many of the products are nearly all half-off, buying all of the sale products will still cost you a little more money than you'd (probably) like to spend.
"Ulta started their 21 days of beauty sale today. Bye bye money!"
"This 21 days of beauty sale at Ulta is gonna have my wallet a HURTIN."
"Ulta's 21 days of beauty starts today ... I'm about to be one broke biiish."
"...I'm gonna buy all the things."
"RIP to my bank account cuz Ulta's having that sale."
"I get the itch during Ulta's 21 days of beauty like I NEED to buy something!"
Some people are getting very creative to make sure they can buy all the products.
"I really just signed up for $200 worth of paid psychology studies so that I can buy everything I want during Ulta's 21 days of beauty sale..."
You don't even need to leave the comfort of your home to take advantage of these deals.
"I thought Ulta's 21 days of beauty was only in store and I'm leaving for school and there's none near me BUT IT'S ONLINE TOO."
"I already have a list of what I need to buy, and I set a reminder on my cell."
You might think that all this hype about a beauty sale is a bit much, but I will say (once again) that the deals literally cannot be beat. It's the perfect time to try that mascara or contour set that would normally be a pretty big splurge for your makeup budget.
Since it seems like it might be pretty easy to go overboard by taking advantage of every one of Ulta's 21 days of beauty deals, you can rest easy knowing that the sale goes through April 7 — so you can plan out what items are definite must-haves for your makeup collection (your wallet will thank you). On the other hand, sometimes it's a "treat yo self" kind of day, and if all of the day's deals happen to fall into your online cart, so be it. Whichever approach fits you best is up to you. Either way, you're bound to look fabulous, thanks to Ulta and all of your new buys.