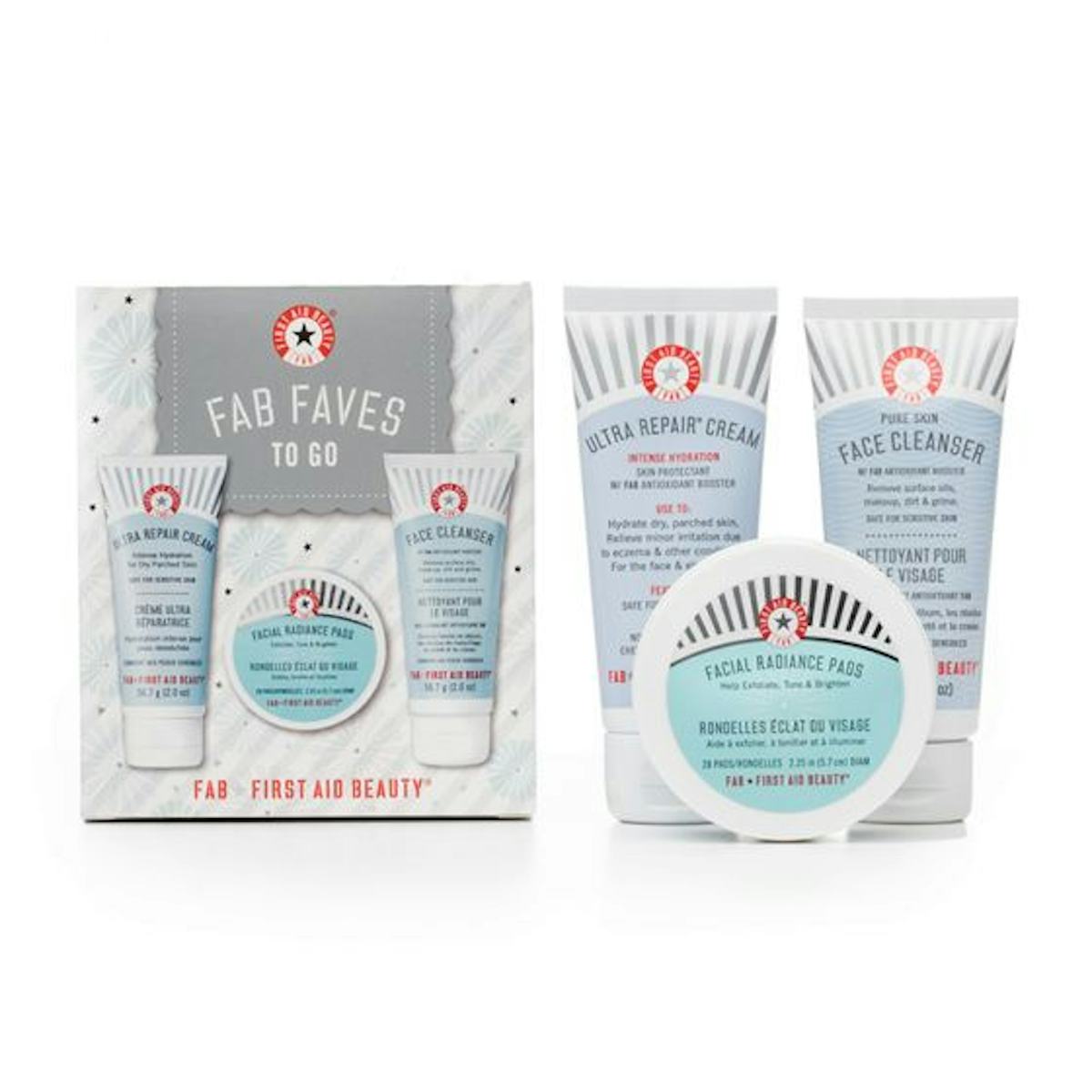 The Ulta Love Your Skin Sale Means Cult-Favorite Skincare Sets For Only $15
First Aid Beauty
A sale is a sale, no? Wrong! Not all sales are created equal, and Ulta agrees. Ulta Beauty is having a nearly month-long promotion on their best skincare products, and I would normally go broke, but the prices are shockingly affordable. The Ulta Beauty skincare sale is happening right now and I couldn't think of a better time, considering my skin currently has the consistency of a cat's tongue.
Ulta Beauty is home to some of the best skincare brands — Shiseido, Lancôme, First Aid Beauty, Benefit, Origins, Clinique, just to name a few. And guess what, their best products are on sale this month for half off, with new daily deals until Jan. 27. All the damage done to your skin over the holiday season (cold weather, heavy makeup, lots of alcohol...) can now be treated. You'll be peeled, primed, and moisturized in no time, and still have money to burn.
Whether or not you're still partying like it's 1999, or just still recovering from New Year's Eve, the Ulta Beauty Love Your Skin event is here for you and your wallet. They've got deals in-stores and online, so you can invest in your epidermis from the comfort of your own couch. Now what exactly are these deals I've been talking about? Patience is a virtue, my dear.
Monday, Jan. 8
PÜR HydraGel Lift, $13, Ulta
This natural eye primer stick will normally set you back $26 but it's on sale today only (and online only) for $13. Apply it on your eyelids and under-eyes to hydrate and lift.
Peter Thomas Roth FIRMx Peeling Gel, $24, Ulta
An at-home peel for $24 (normally $48!), sign me up! Peter Thomas Roth's peeling gel will gently remove excess dead skin without the harshness of a chemical peel.
Tuesday, Jan. 9
Shiseido Benefiance WrinkleResist24 Pure Retinol Eye Mask, $9, Ulta
I love under-eye masks. Put those puppies on, sit back and watch your go-to Netflix sitcom (mine is Friends), and by the time Joey says "How you doin'?" you'll actually look 19.
Lancôme Bi-Facil Double-Action Eye Makeup Remover, $15, Ulta
This eye makeup remover gets rid or the most stubborn water-proof mascara, and doesn't leave your skin with a greasy feeling afterwards.
Even more good news, Jan. 9's deals are both online and in-store.
Wednesday, Jan. 10
Proactiv Skin Purifying Mask, $19, Ulta
Buckle up, Jan. 10 has three amazing deals for you.
StriVectin Power Starters Age-Fighting Trio, $43, Ulta
This is a $100 value for $43, so, yeah.
Organic To Green Jasmine Ylang Ylang Coconut Oil For Face, $42, Ulta
On Jan. 10 you can get any Organic To Green 8 oz. coconut oil product for $21. Good luck choosing between the five aromatic scents.
Thursday, Jan. 11
Juice Beauty Stem Cellular Anti-Wrinkle Overnight Cream, $75, Ulta
Expensive anti-aging creams are always on my beauty wish-list, but I can't justify spending the money on them myself, until now. This bad boy will be on sale from $75 down for $38 on Jan. 11, online and in-stores.
Perricone MD Pre:Empt Series The Travel Set, $69, Ulta
Traveling can be expensive, looking good while traveling can be nearly impossible, until now. This skincare set has all your bases covered and is TSA-approved.
Friday, Jan. 12
Clarisonic Mia 1 Skin Cleansing System, $99, Ulta
If I'm paying close to $100 for a skincare product, it better be good, or at least a good deal, and this one is.
First Aid Beauty FAB Faves To Go Kit, $15, Ulta
This is an all-you-need face care kit and it's only $15, it also comes with a free gift, you'll get First Aid Beauty's Beauty Mini's set!
Saturday, Jan. 13
Benefit Cosmetics Total Moisture Facial Cream, $32, Ulta
I'm sold on this adorable jar alone, but the price doesn't hurt, either.
Benefit Cosmetics It's Potent Eye Cream, $26, Ulta
There's that cute jar, again! Also on this day, if you spend more than $35 on Benefit products (i.e. buy both of these creams), you'll get a second It's Potent Eye Cream for free.
Sunday, Jan. 14
BareMinerals Skinlongevity Vital Power Infusion Serum, $19, Ulta
Serums sometimes scare me, but only because of the price tag. For $19, I think I can conquer my fear.
Algenist Genius Ultimate Anti-Aging Vitamin C+ Serum, $59, Ulta
On Jan. 14, this amazing serum's price drops down to double digits. It also comes with a free Algenist Genius Eye Cream.
Start using up your old skincare products, because these products are only for a week's worth of the Ulta Love Your Skin event! What a fantastic way to start 2018.