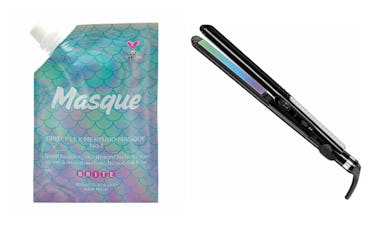 Ulta Is Having Its Epic Hair Sale Now & You Can Score Mermaid Hair Masks for $6
I hardly know where to begin when talking about Ulta — what don't they have? The only thing better than the brand's consistently epic selection of products is its scandalously low prices, and better than that still are its legendary sales. The Ulta Gorgeous Hair Event 2018 sale is happening right now with new deals every day for the next two weeks, and the beauty gods have some heavenly offerings.
Running low on dry shampoo? Want to try out a new hair mask? Or do you have absolutely no real need for anything but want to get some great deals on new hair tools and products? I'm in the latter category and proud of it — I have no earthly need for new beauty products other than the fact that I want to treat myself to something (or two things) shiny and new. And I can think of no better way to do that than with Ulta's Gorgeous Hair Event, which will be tempting my willpower with 50 percent off some of its best hair buys every day for the next two weeks.
Through June 2, Ulta is cutting the split ends off its prices with most deals at half off — check out the highlights (pun intended) from daily deals below, then get out your credit card because your hair will thank you.
CONAIR Infiniti Pro Rainbow Titanium Flat Iron, $23, Ulta
This one inch flat iron boasts a 30 degree temperature range, easy-grip handle, 15-second heat up time, and my favorite part, iridescent rainbow ceramic plates. Ulta usually has this bad boy for $45, but for one day only it's being practically given away for $23.
Klorane Dry Shampoo With Oat Milk, $10, Ulta
Does anyone not use dry shampoo? Would I trust someone who doesn't use dry shampoo? The answer to both of those questions is: Probably not. And with this fancy pants dry shampoo on sale for $10 on May 22, there's really no reason to not buy it, or to shower.
Brite Briteplex Mermaid Masque, $6, Ulta
May 23 will probably be my favorite day of the sale this week, maybe even for the rest of the month. Brite is a brand known for injecting glittery, rainbow fun into their products, the above mermaid hair mask being a prime example. All of the brand's offerings will be half-off this day so you can also venture into the world of Liquid Hair Chalk ($6, Ulta) for some multi-color summer fun.
Ouidad Advanced Climate Control Heat & Humidity Gel, $13, Ulta
Humidity is my hair's mortal enemy, so anything that promises to lock in the moisture your hair needs (so it's shiny) while blocking out all the unwanted humidity, preventing frizz and excess volume is a win. Sign me up.
Rusk Speed Freak 2000 Watt Dryer, $60, Ulta
$120 is a lot of money to pay for a blow dryer, but guess what, you don't have to! This powerful hairdryer will be on sale for $60 come May 25 — you might want to start saying goodbye to your current one.
Kenra Professional Platinum Revive Oil, $14, Ulta
Summer's almost here and as fun as it'll be, all that time laying out in the sun or swimming in the pool is damaging to your hair. Kenra Professional's Revive Oil promises to strengthen and moisturize your worn out locks all summer long so you'll be Instagram-ready at a moment's notice.
The above is but a small smattering of the deals and products you can score from Ulta. Every day through June 2 offers multiple deals that last for 24 hours only, so, it's decision time. Or not.