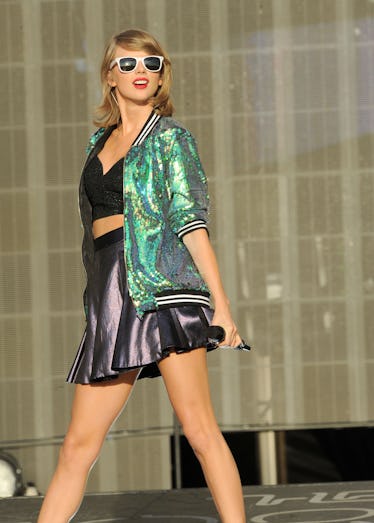 People Are So Pissed Taylor Swift Was Included As 'TIME's Person Of The Year & Here's Why
Dave Hogan/Getty Images Entertainment/Getty Images
Taylor Swift has had a big year. She's rebranded her whole image, released her latest album triumph, graced the cover of British Vogue, and, oh yeah, sued a man for sexual harassment for $1. I wish I could tell you it was her professional achievements that put her on the list of TIME's Person of The Year, but that's just not true. This year, TIME chose many people, men and women alike, and dubbed them "The Silence Breakers." This list includes individuals who have spoken out against the historical onslaught of sexual harassment and assault that has always plagued our society. Unfortunately, tweets about Taylor Swift being included in TIME's Person Of The Year prove not everyone agrees she deserves to be there.
"The Silence Breakers" were announced on the morning of Nov. 6 during NBC's Today. Included on the cover is actress Ashley Judd, former Uber software engineer Susan Fowler, California lobbyist Adama Iwu, strawberry picker Isabel Pascual, and of course, Taylor Swift.
TIME Editor-in-Chief Edward Felsenthal released a statement saying,
The galvanizing actions of the women on our cover … along with those of hundreds of others, and of many men as well, have unleashed one of the highest-velocity shifts in our culture since the 1960s.
In Swift's case, she called out radio DJ David Mueller for allegedly inappropriately reaching under her skirt while taking a photo with her. Due to this, he was fired from his position. Afterward, Mueller made the decision to sue Swift for millions of dollars, which she then countered for $1. TIME calls the dollar "symbolic."
TIME's article describes how Swift was asked on the witness stand "whether she felt bad that she'd gotten him fired." Swift responded to Mueller's team during the trial, saying,
I'm not going to let you or your client make me feel in any way that this is my fault ... I'm being blamed for the unfortunate events of his life that are a product of his decisions. Not mine.
In her interview, Swift says this was a defining moment for her. She said,
I figured that if he would be brazen enough to assault me under these risky circumstances, imagine what he might do to a vulnerable, young artist if given the chance. When I testified, I had already had to watch this man's attorney bully, badger, and harass my team, including my mother over inane details and ridiculous minutiae, accusing them, and me, of lying. My mom was so upset after her cross-examination, she was physically too ill to come to court the day I was on the stand. I was angry. In that moment, I decided to forego any courtroom formalities and just answer the questions the way it happened. This man hadn't considered any formalities when he assaulted me, and his lawyer didn't hold back on my mom—why should I be polite? I'm told it was the most amount of times the word 'ass' has ever been said in Colorado Federal Court.
Despite the archaic trial and powerful message Swift was sending, there was immediate backlash on Twitter from folks who felt she did not deserve to be on the Silence Breakers list, nor the cover of the magazine.
People exclaimed they were disappointed, shocked, and felt this was an inappropriate pick because of Swift's silence on President Donald Trump (especially because he has been accused of sexual assault many times over).
However, other people came to Swift's defense, pointing out that minimizing her experience as a victim of sexual harassment is exactly the messed up pattern and societal system the Silence Breakers are working against.
You can read the entire powerful article and learn more about other individual's stories at TIME.
Check out the entire Gen Why series and other videos on Facebook and the Bustle app across Apple TV, Roku, and Amazon Fire TV.