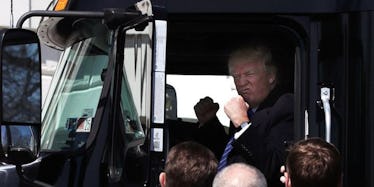 There's Video Of Donald Trump Listening To Taylor Swift, So Enjoy That
Getty Images
President Donald Trump recently told Reuters he misses his old life, especially driving.
Perhaps what he really misses is driving while listening to Taylor Swift.
A video has emerged of Trump driving a Rolls Royce with his son Barron sitting next to him and Tay Swift's "Blank Space" blaring on the speakers.
The video, which was located by Axios reporter Jonathan Swan, was reportedly filmed by Melania Trump from the backseat circa December 2014.
It was a much simpler time, long before Hiddleswift and Trump's presidential campaign.
Trump has expressed his admiration for Swift in the past, so perhaps we shouldn't be that surprised to see him cruising down the highway with her music in the background.
Taylor Swift was criticized for her silence during the US presidential campaign.
While a number of other celebs came out and endorsed Clinton or Trump, Swift didn't spill the beans on who she was getting behind.
It seems that when it comes to politics, celebrities will face attacks regardless of whether or not they're vocal.
Lena Dunham came to Swift's defense over this, saying "people are nuts" and it's perfectly understandable why some don't want to get directly involved in the world of politics.
She said,
I just think everyone has to do it their way. When I was lesser known, I was like, 'Who could not share their opinion?' Then I found out that when you talk about politics, people straight up tweet you the floor plan of your house and say they're coming to your house. You have to fucking watch it because people are nuts.
Speaking of people being nuts, not long after the election, an alt-right website claimed Swift voted for Trump.
There is no evidence of this whatsoever. This was actual fake news.
All we know about Swift's politics is that she voted, based on an Instagram photo she posted.
The one thing we can be certain of here when it comes to Trump and Taylor Swift is that he's a big fan.
During an interview with Yahoo Politics in November 2015, Trump described Swift as "terrific."
Whether she feels the same about him might forever remain a mystery.
Citations: 1 fun thing: Trump's driving (Axios)