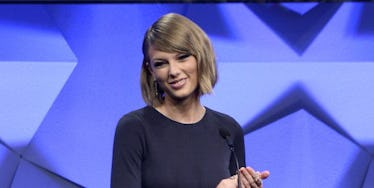 Taylor Swift Sent The Sweetest Thank You For The Post-It Support During Her Trial
Frazer Harrison/Getty Images for GLAAD
It was a moment that had Taylor Swift fans across the country cheering: On Aug. 14, a jury ruled in favor of Taylor Swift in her lawsuit against a Colorado DJ she accused of groping her in 2013. But if many fans were supporting her after her victory, Swift definitely didn't forget the ones who were cheering her before it. The day after the ruling, Taylor Swift thanked fans who supported her during the trial by sharing messages in the window using Post-It notes, sending their whole office flowers.
Crafting website Craftsy shared a photo to their Twitter account on Tuesday night showing a reception area full of flower arrangements. "Thank you @taylorswift13! We're so happy our messages brightened your day as much as your flowers brightened ours!" The caption read.
Craftsy is the office behind those viral Post-It messages that decorated the window in the office building across from the courthouse where Swift's lawsuit trial was being held. As the trial dragged on, day after day, those arriving at the courthouse would see messages of support for Swift — often using her own lyrics or song titles to cheer on the pop star — written out using Post-Its stuck to the window from the inside.
Apparently, the star noticed. 
Swift was being sued by former Colorado DJ David Mueller, who accused her of getting him fired from his lucrative job as a radio host. Swift, for her part, alleged that he had groped her at a meet-and-greet in 2013, sticking his hand up the back of her skirt and putting his hand on her butt. She countersued him for the princely sum of $1, saying that it was about the principle and that she was standing against sexual assault. (Swift, who was worth an estimated $280 million in 2017, probably doesn't need that buck.)
But she won it anyway.
Fans were thrilled when Swift won her case, and shared a statement in the courtroom saying she hoped to amplify the voices of others who may feel silenced by sexual assault, and that she would be making donations to organizations who fought on their behalf.
And while Swift was a symbol of support to many, she clearly didn't forget the symbols that supported her.
I mean, really though, these pictures are just too cute. And using Swift's own words to support her is a stroke of genius — for one thing, it shows what big fans they are of hers, which is always nice.
But more importantly, using someone's own words to support them is a powerful way of reminding them that — yes. You do have the strength. It's coming from you.
And then of course, on the day of the verdict:
Yes we are. And clearly, TayTay appreciated the help in finding her way.