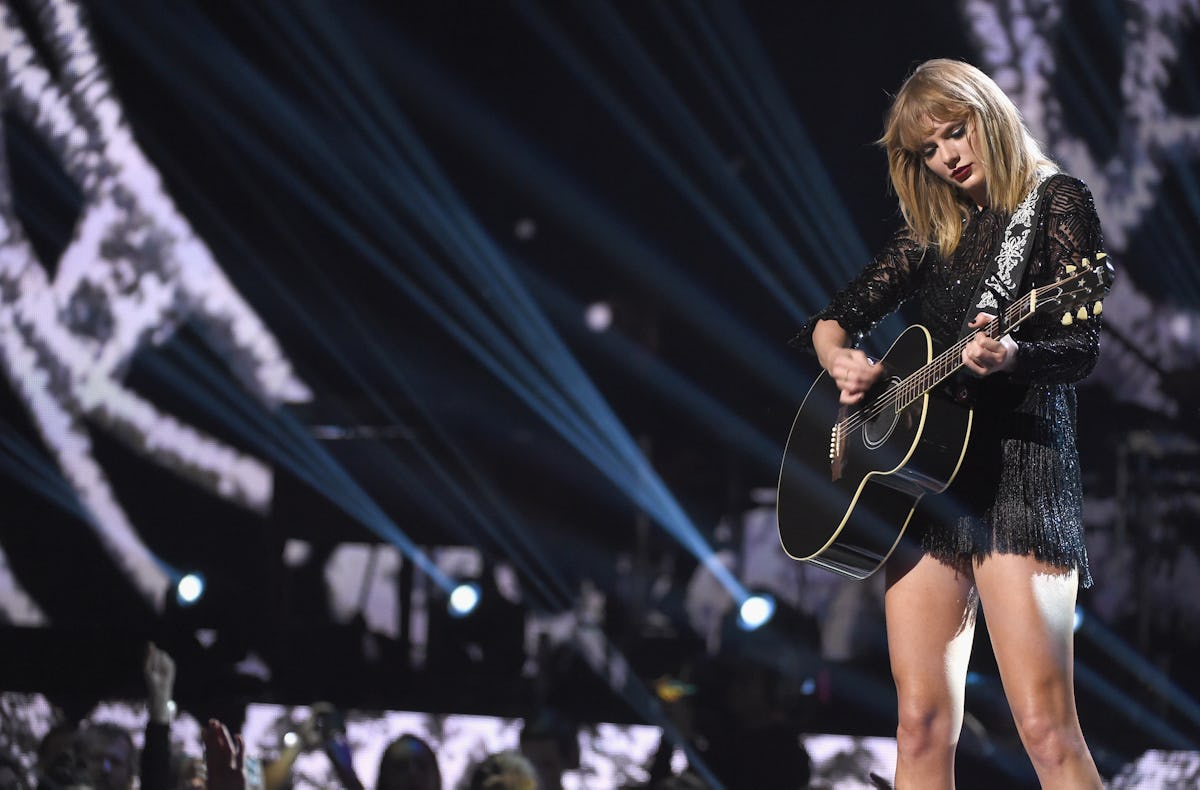 Taylor Swift Was Included As 'TIME's Person Of The Year For A Heartbreaking Reason
Kevin Winter/Getty Images Entertainment/Getty Images
TIME's Person of the Year was announced on Wednesday, Dec. 6, and this year's recipients are "The Silence Breakers," aka the women who came forward with their stories of sexual harassment and assault throughout this year. Some of the women made waves in the #MeToo campaign, while others, such as Taylor Swift, are included for speaking out against harassment in legal ways. Taylor Swift's TIME Person of the Year quotes about harassment shine a brighter light on the legal battle she went through earlier this year after a man allegedly groped her. The quotes will make you feel sad that it happened, but also empowered by her response to it.
Swift was in an intense legal battle over the summer after Denver DJ David Mueller sued her for millions in damages after he was fired from his job. Swift and Mueller had posed for a picture together once when Mueller allegedly put his hand up Swift's skirt and grabbed her butt, after which she complained and Mueller was fired from his job. The lawsuit made national headlines after the transcript of Swift's testimony was released. She said to Mueller's lawyer during her testimony, "I'm not going to let you or your client make me feel in any way that this is my fault. I'm being blamed for the unfortunate events of his life that are a product of his decisions. Not mine." In one of the most memorable moments of the case, Swift countersued Mueller for only $1, and she won.
Swift was praised for sticking to her guns during the lawsuit and setting an example for women that inspires them to hold their ground and not be made to feel bad for the condemnable actions of men. In her Person of the Year interview with TIME, she said she felt it was important to try to set this precedent so other female artists in the music industry will be able to protect themselves. She said,
I figured that if he would be brazen enough to assault me under these risky circumstances, imagine what he might do to a vulnerable, young artist if given the chance. When I testified, I had already had to watch this man's attorney bully, badger, and harass my team, including my mother over inane details and ridiculous minutiae, accusing them, and me, of lying. My mom was so upset after her cross-examination, she was physically too ill to come to court the day I was on the stand. I was angry. In that moment, I decided to forego any courtroom formalities and just answer the questions the way it happened. This man hadn't considered any formalities when he assaulted me, and his lawyer didn't hold back on my mom—why should I be polite? I'm told it was the most amount of times the word "ass" has ever been said in Colorado Federal Court.
Swift's full description of how the lawsuit came to pass is pretty heartbreaking.
She told TIME,
In 2013, I met a DJ from a prominent country radio station in one of my pre-show meet and greets. When we were posing for the photo, he stuck his hand up my dress and grabbed onto my ass cheek. I squirmed and lurched sideways to get away from him, but he wouldn't let go. At the time, I was headlining a major arena tour and there were a number of people in the room that saw this plus a photo of it happening. I figured that if he would be brazen enough to assault me under these risky circumstances and high stakes, imagine what he might do to a vulnerable, young artist if given the chance. It was important to report the incident to his radio station because I felt like they needed to know. The radio station conducted its own investigation and fired him. Two years later, he sued me.
One of the worst parts of Swift's story is the fact that Mueller still hasn't paid her that $1. Yeah, the man can't even give her a court-ordered dollar. Swift doesn't seem too bothered by it, as she prefers to focus on the wave of women bringing their stories to light. She said,
I think that this moment is important for awareness, for how parents are talking to their children, and how victims are processing their trauma, whether it be new or old. The brave women and men who have come forward this year have all moved the needle in terms of letting people know that this abuse of power shouldn't be tolerated. Going to court to confront this type of behavior is a lonely and draining experience, even when you win, even when you have the financial ability to defend yourself. Even though awareness is higher than ever about workplace sexual harassment, there are still so many people who feel victimized, afraid and silenced by their abusers and circumstances. When the jury found in my favor, the man who sexually assaulted me was court-ordered to give me a symbolic $1. To this day he has not paid me that dollar, and I think that act of defiance is symbolic in itself.
UPDATE: According to E!, Mueller said on Wednesday, Dec. 6 that he did send the dollar to Swift. He reportedly sent it on Nov. 28 and also provided proof of payment to the Associated Press.
EARLIER: Other people included in TIME's Person of the Year story are Rose McGowan, who came forward with her story of sexual harassment and assault involving Harvey Weinstein; Ashley Judd, who is also one of Weinstein's accusers; Terry Crews, who came forward with his own story of sexual assault; and former Uber engineer Susan Fowler, who helped shed light on sexual harassment at Uber. Donald Trump was the runner-up. Can't wait to see those tweets.