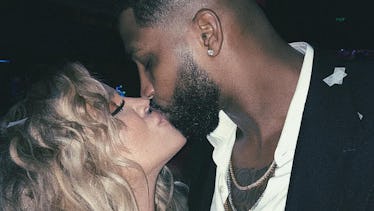 Woah! Tristan Thompson Just Snapchatted Himself Kissing Khloé Kardashian & I'm Shooketh
Instagram / Khloe Kardashian
Can someone please tell me WTF I'm looking at here? It's old news Tristan Thompson and Khloé Kardashian are working on saving their relationship after he reportedly cheated on her, but his latest Snapchat video of the two together is all shades of bizarre. In it, she's hanging onto the NBA player's arm for dear life, he's dancing to music and making intense eye contact with the camera, and then they snuggle and smooch. Tristan Thompson's Snapchat kissing Khloé Kardashian shouldn't be that abnormal in theory, but also, what normal person cheats on Khloé Kardashian, huh?!
Fans watched in horror as videos began surfacing of Thompson seemingly kissing other women while Kardashian simultaneously went into labor with their first child together in mid-April. It totally rocked Keeping Up With The Kardashians fans' worlds, considering everyone thought these two were the real deal. Perhaps understandably, everyone was guessing the strong-willed and opinionated youngest Kardashian sister was going to kick his tall ass to the curb. But... not so. The new mom made the personal (and equally understandable) decision to double down on her relationship with Thompson and work to keep her growing family together.
OK, OK, OK. I'm on board, I guess. But where does he get off sharing this video? THAT'S OUR MAIN GIRL, TRISTAN! YOU'VE GOTTA BE DELICATE HERE!
Take a look and you tell me if I'm overreacting.
It's just weird, right? Like, what is Khloé looking at? Why won't she look at the camera? Where are they going? Who is this video for? Did Thompson share it because he loves the way he looks or something? Why is she hanging on to his arm SO HARD? Does she get sleepy at the end and that's why she hides her head? Also, T and K, you've gotta keep your fans in the loop or they're going to continue to question your every decision.
What exactly is the plan here? To move on like nothing ever happened?
This video is also roughly the first time Thompson and Kardashian have outwardly shown physical affection towards each other since the cheating scandal rumors struck. We know Kardashian recently moved back to her Los Angeles home where she and Thompson threw their traditional Fourth Of July party, but we haven't seen them, like, kiss or anything. I guess what I'm getting at is — I'm still mad at you, Tristan.
It's hard, when you've watched a family go through personal ups and downs on television for a decade, to not feel a personal connection to their lives. Alas, it's also none of my business what Kardashian and Thompson do, say, and decide to post on Snapchat behind closed doors. Ugh.
Thompson seems to be on a "Make Things Right" tour this summer, having recently unblocked Khloé's sister Kim on Instagram. He was a pretty good sport about it when she posted the interaction, too.
I'm torn. I want Khloé to be happy, and if that means working things out with Thompson, so be it. But! I also want him to show just a little bit of regret for putting her through hell, y'know what I mean?
Only time will tell what the full consequences of Thompson's actions will be (and if fans will be able to watch it all go down on KUWTK). But for now, his Snapchat has me perplexed. Guess I better call out of work and stalk them on the internet all day to play it safe.
Check out the entire Gen Why series and other videos on Facebook and the Bustle app across Apple TV, Roku, and Amazon Fire TV.