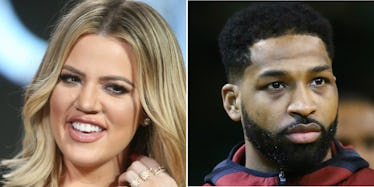 Khloé K's Family Has "Forgiven" Tristan Thompson After The Cheating Rumors, Apparently
Frederick M. Brown/Maddie Meyer/Getty Images
Khloé Kardashian is back in Los Angeles and Tristan Thompson is there with her. While Thompson still has a house in the city, he's reportedly staying at the Kardashian's so they're both with little True all the time. So yeah, in case you guys were hoping Kardashian would dump Thompson, it doesn't look like that's going to happen, especially now that Khloé Kardashian's family has "forgiven" Tristan Thompson after he reportedly cheated on her multiple times throughout her pregnancy. Elite Daily reached out to Kardashian and Thompson's teams for comment on this report, but did not hear back by the time of publication.
As previously reported, Khloé Kardashian is back in L.A. She arrived at her L.A. home with her daughter in tow this past weekend after being in Cleveland ever since the last month of her pregnancy. She, Thompson, and True spent their first Father's Day together in California, and now it looks like Thompson will be staying at her house long-term. A source told Entertainment Tonight, "[Tristan] has a home in L.A. too, but the plan is to live together as a family at Khloé's home as they continue to work on their relationship." They continued, "Everyone is back on board — friends, family, and Khloé have all forgiven him and are giving him this second chance — and so far it's been working for them." The source noted that this is probably the only second chance the family will allow Thompson, but that they are "all about forgiveness, and now it's up to him to prove himself."
Dia Dipasupil/Getty Images Entertainment/Getty Images
Lachlan Cunningham/Getty Images Sport/Getty Images
The source continued to say that had Kardashian jetted back to L.A. when the cheating reports surfaced like she reportedly wanted to at first, their relationship wouldn't have survived. Staying in Cleveland, according to the source, gave Kardashian and Thompson the time and space to work on their relationship and start to heal and rebuild trust. It clearly worked.
The source said,
Her family was obviously very concerned when the scandal broke and they wanted her to come home, [but] she decided to stay and is so happy she did. She loved her time in Cleveland and believes it was essential to their relationship to be together as a family unit during that time. Those are important months as a parent and she is grateful they experienced that as a team.
As for True, the source said, "True is Khloé's absolute world. She loves being a mother and True is her pride and joy." As if we needed a source to tell us that. It was spelled out all over Kardashian's Instagram.
The upcoming season of Keeping Up With The Kardashians is reportedly going to cover the Tristan Thompson cheating scandal, so that's probably why the reality star hasn't commented on it yet. A source told Us Weekly,
They always discuss real life things on the show. They've never ignored a topic. It will definitely be brought up, but they don't know how much. They can film hours about it, but in the end, Khloé is one of the executive producers and will have final say on what actually makes air.
Another source said Thompson isn't so keen to have their dirty laundry aired on the show, but Kardashian is insisting so that questions about the scandal can be put to rest. The source said, "He doesn't understand why it has to be addressed, but Khloé has said if it's not dealt with on the show, questions will continue to linger." They added, "No one has heard from Khloé directly about what she felt or what she has gone through, and she pointed out to Tristan that she won't do anything to hurt him by briefly discussing the cheating. She has moved on from it." She's moved on from it, and her family apparently has too. Lucky Tristan.