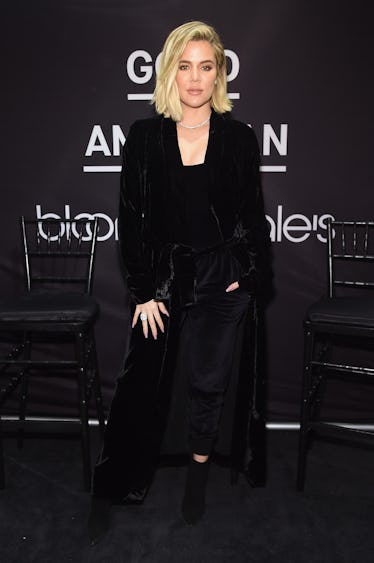 Khloé K Will Reportedly Address Tristan Thompson Cheating Rumors On 'KUWTK' & He's Not Happy
Jamie McCarthy/Getty Images Entertainment/Getty Images
Khloé Kardashian is not hiding from all the recent tumult and drama of her relationship. In fact, she's reportedly planning on telling the world all about it! Yep, Khloé Kardashian will address the Tristan Thompson cheating rumors on Keeping Up with the Kardashians, apparently, and nothing is going to stop her from doing it. Not even Thompson himself. The reality star is reportedly dead-set on making sure fans of the show know what's going on, even if her boyfriend isn't exactly happy that she's doing it.
According to a new June 19 report from Us Weekly, Kardashian will address Thompson's cheating scandal on the upcoming season of Keeping Up with the Kardashians. Elite Daily reached out to both Kardashian and Thompson's teams for comment on this report, but has not heard back at the time of publication.
For those of you not in the know, Thompson was the center of some salacious cheating rumors back in April 2018, just days before Kardashian was due to give birth to the couple's daughter. The Daily Mail was the first to report on the scandal and even included a video of Thompson seemingly kissing another woman. Elite Daily previously reached out to Thompson's team for comment on the cheating rumors, but did not hear back by the time of publication.
Kardashian gave birth to the couple's daughter, True Thompson, on April 12 amid all the chaos and scandal.
Sources close to Kardashian and Thompson spoke to US Weekly about Kardashian's decision to open up about the cheating rumors. Apparently, Kardashian will have the final say in how much is revealed to fans via the show:
They always discuss real life things on the show. They've never ignored a topic. It will definitely be brought up, but they don't know how much. They can film hours about it, but in the end, Khloé is one of the executive producers and will have final say on what actually makes air.
But being an executive producer on the show doesn't necessarily protect Kardashian. Or Thompson, for that matter. According to a second source close to the couple, Thompson isn't happy at all about his girlfriend speaking publicly about what happened. Kardashian, on the other hand, has a great reason for wanting to do so:
He doesn't understand why it has to be addressed, but Khloé has said if it's not dealt with on the show, questions will continue to linger. No one has heard from Khloé directly about what she felt or what she has gone through, and she pointed out to Tristan that she won't do anything to hurt him by briefly discussing the cheating. She has moved on from it.
All this comes amid speculation about whether Thompson himself will appear on Keeping Up with the Kardashians alongside his girlfriend.
According to a June 1 report from Us Weekly, a source confirmed that Thompson has no plans to make an appearance on the show:
Tristan didn't appear a lot on Keeping Up with the Kardashians when his relationship with Khloé was solid, so it's no surprise he has told her that he won't be filming in the future for the show.
Additionally, Kardashian isn't terribly concerned about whether he's on the show or not:
Khloé could actually care less about whether or not he does. She is focused on trying to rebuild the trust in the relationship.
All in all, it sounds like Kardashian and Thompson both know what they want. They may not be on the same page regarding this particular situation, but at least they're giving each other some room to make their own decisions. That's actually a very mature move, so you have to give them a little credit there. Hopefully, it all works out for both of them! Oh, and little True, too!