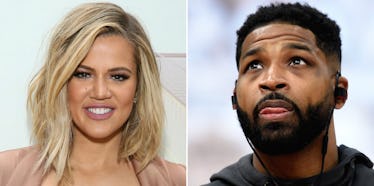 Khloé K Just Shared The First Photo Of Tristan Thompson Since The Cheating Rumors
Cindy Ord/Jason Miller/Getty Images
Khloé Kardashian is back in Los Angeles and she brought baby True with her. The new mom has been living in Cleveland, Ohio, at Tristan Thompson's house ever since the last month of her pregnancy, but now she's back in L.A. with her daughter, and Thompson appears to have traveled back with her. Kardashian posted to her Instagram story on Father's Day on Sunday, June 17, and one of those photos included a rare photo of her boyfriend. It marks Khloé Kardashian's first photo of Tristan Thompson since the cheating rumors, and it's not doing much work in terms of clearing up their relationship status for fans.
Kardashian's first Father's Day with Thompson seemed to be a lot different than her first Mother's Day. While she traveled back to L.A. and got a big welcome home from family and friends this past weekend, her first-ever Mother's Day was spent "hibernating" with her daughter in Cleveland. In a post on her app on May 12, Kardashian said,
I've always loved Mother's Day and celebrating Kris Jenner, [grandma] MJ and my sisters — but this year will be even more special because now I'm a mommy, too! As of now, there aren't any special plans (that I know of, LOL). I'm really enjoying spending quality time with True and loving just hibernating with her.
There was no mention of Thompson in the post. In fact, Kardashian has barely mentioned Thompson in any posts on her app and her social media pages ever since the reports of his cheating came about just two days before she gave birth to True Thompson on April 12.
On Father's Day, June 17, Kardashian posted her first photo of Tristan Thompson since the cheating rumors broke to her Instagram and Snapchat stories.
The photo showed little True sleeping in a car seat, and she was holding her dad's finger in her hand. You can't see Thompson's face in the photo, but it's captioned "Happy Father's Day," so we know it's him.
We know Kardashian is back in Los Angeles thanks to her Instagram and Snapchat stories, as well. She posted videos of the True-themed cookies her friends had made for her as well as a photo of balloons Kylie Jenner sent her that said, "Welcome home Khloé and True."
Note how the balloons don't say "Tristan" anywhere.
The other balloons say, "Stormi and Kylie... We love you." No welcome home balloons for Thompson, I see. Is this a bit of shady shade on Kylie's part? It's also worth noting that the photo Kardashian posted of Thompson could've been taken days or weeks before she posted it. and she just posted it for others to see as a simple Father's Day message. It doesn't necessarily mean he was in L.A. with her this weekend — hence the balloon snub.
He did post on Instagram in honor of Father's Day, but it doesn't give any hints as to where he's currently living.
The photo showed Thompson's two gold chains that spelled out the names of his children, Prince and True, in gold and diamonds. The caption read, "My Prince and Princess. I love you guys so much!!!"
If you check out the likes on that post, you'll see that both Kylie Jenner and Khloé Kardashian liked it.
All of these photos and likes have me questioning the relationship status of Kardashian and Thompson, as well as the status of Thompson's relationship with Kardashian's family. Kylie Jenner seems to be cool enough with him to like his Instagrams, but liking his post about her niece could literally mean nothing. It does seem like the family is still sticking to their plan of not addressing the cheating rumors at all, and part of not addressing the cheating rumors has entailed not speaking about Thompson at all.
Kris Jenner only recently commented on the whole situation after months of keeping her opinions to herself (for the most part). At a fashion show in L.A. on June 8, Jenner addressed the rumors head-on for the first time. Her comments were vague, but they are likely all we're going to get from her. She said, "I think you just have to be there for your kid and follow their lead. I'm not in that relationship or in that situation, so I really trust Khloé. She's so smart, and such a great girl, and she'll figure it out."
It's not clear if Tristan Thompson is planning on moving to L.A. now that basketball season is over, but seeing as Kardashian has now started posting photos of him again, it looks like these two could be on the mend.