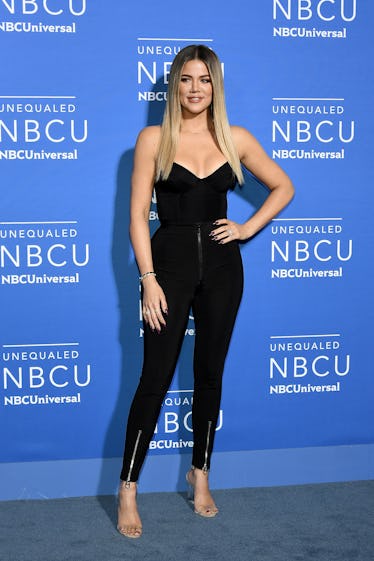 Khloé Kardashian Said She Felt "So Loved" On Mother's Day & I'm So Happy For Her
Dia Dipasupil/Getty Images Entertainment/Getty Images
Happy Mother's Day to all the women out there who love, care for, and support a human being. I am consistently in awe of all that you do, and have no idea how you all manage to do everything so effortlessly. Big shout out to you all, and especially my own: Hi, Mom! And an even bigger shout out to all the new moms out there, who are just getting the hang of this whole "parenting" thing. One of those people is Khloé Kardashian, who has had one entire month to spend with her daughter, True Thompson, before Mother's Day approached. So, what plans did they have in store for the big occasion? Would be some breakfast in bed (not made by True, one month is a bit premature to start cooking)? Perhaps a spa day (where True would probably hang back at the house) for the new mom? Here's how Khloé Kardashian spent her first Mother's Day, and honestly, it sounds absolutely perfect.
Kardashian gave her fans an idea of what her first Mother's Day would look like, and posted on her app, detailing that this is a holiday she's always loved celebrating and feels that this is a truly special year, because now she can finally get in on the fun. While she noted that there aren't any plans that she's aware of, she wanted this day to be all about being with her daughter. She wrote,
I've always loved Mother's Day and celebrating Kris Jenner, [grandma] MJ and my sisters — but this year will be even more special because now I'm a mommy, too! As of now, there aren't any special plans (that I know of, LOL). I'm really enjoying spending quality time with True and loving just hibernating with her.
Just thinking about those plans makes me want to cry a little, because it's all sounds so precious.
But on May 13, Kardashian took to social media to show her fans what exactly went down on her Mother's Day, and it was clearly just what the first-time mom needed.
On Sunday afternoon, Khlo took to her Instagram story to post a shot of not one, but two separate flower arrangements, which both spelled out "Mommy" — one in pink roses on a white background, the other apparently in white hydrangeas on a dark background. "I feel so loved," she wrote over a shot of one of the arrangements.
While KoKo didn't note who the flowers are from, there seemed to be an extra sweet meaning behind one of the sets of flowers. One of the two arrangements was done in pink roses — which, if you remember, was the same theme as Khloé's own baby shower for little True.
Ugh. Just too sweet.
Not to mention the other apparent gift she got — an arrangement of gold balloons reading "KoKo." Not exactly Mother's Day themed in the classic sense, but hey, a celebration of a mom is a celebration of a mom.
Well, it seems like Khloé had herself a pretty perfect day, so I'm sure there was nothing to complain about on her end (except maybe diapers, amirite?).
And it seems like Khloé has been waiting so long for motherhood to actually happen, so I'm happy that she gets to finally have this experience. Back in April of 2015, Khloé speculated on what kind of parent she'd be. In an interview with Refinery29, she said,
I'm a really fun aunt, so I hope I'm going to be a fun mom! I like to have fun and be silly and not take myself too seriously with the kids, so I hope that will translate when I actually have my own.
Please, I think we all knew that Khloé wouldn't be just a regular mom.
And who could forget when Khloé took to Instagram to announce her pregnancy? Because I'm pretty sure I cried at least a bucket of tears (OK, fine, maybe two buckets) when I read her post. On Dec. 20, she wrote,
My greatest dream realized! We are having a baby! I had been waiting and wondering but God had a plan all along. He knew what He was doing. I simply had to trust in Him and be patient. I still at times can't believe that our love created life! Tristan, thank you for loving me the way that you do! Thank you for treating me like a Queen! Thank you for making me feel beautiful at all stages! Tristan, most of all, Thank you for making me a MOMMY!!! You have made this experience even more magical than I could have envisioned! I will never forget how wonderful you've been to me during this time! Thank you for making me so happy my love!
I still love this post, despite the fact that Tristan Thompson was reportedly cheating on Khloé Kardashian while she was pregnant with their daughter. And, while we could stir up some ~drama~ about it, let's leave Thompson out of this post completely. It's all about the moms today, so Khloé, we hope your day is filled with nothing but love, love, love from your daughter True.