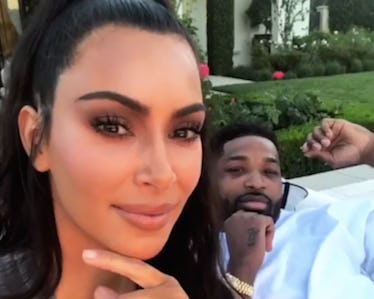 Tristan Thompson Finally Unblocked Kim Kardashian & She Captured The Moment On Video
Kim Kardashian on Instagram
Khloé Kardashian's birthday was June 27, and her sisters, boyfriend, and best friends all celebrated the new mom's 34th birthday partying in her backyard. Kim K posted a bunch of videos from the party, but the video of Tristan Thompson unblocking Kim Kardashian on Instagram is the best one, hands down. Yup, he finally unblocked her, people.
After posting a bunch of videos from Koko's birthday party, Kardashian posted a selfie video of her and Thompson sitting together on a couch. She said, "Alright guys, so, what do you think? It's Khloé's birthday, do you think I should ask this guy to unblock me?" Kardashian and Thompson (and other people in the background) cracked up when she said this, and Thompson responded, "For Khloé's birthday, I think it's only right." Then she posted a video showing him unblocking her in real time, and Kardashian celebrates saying, "I'm unblocked guys!"
Kardashian had unfollowed Thompson on Instagram and Thompson had unblocked her during all of the cheating reports. On April 10, just two days before Khloé Kardashian gave birth to her and Thompson's daughter, The Daily Mail and TMZ published videos that seemingly showed Thompson cheating on Kardashian on more than one occasion. Elite Daily reached out to Kardashian and Thompson's teams about the reports but did not hear back by the time of publication. Kim Kardashian was the first of the family to break her silence on the whole thing in an interview with Ellen DeGeneres that aired on April 27. She said to DeGeneres, "I don't even know how to describe it besides it's so f*cked up." But now, Khloé and Tristan have reconciled and it seems he has done the same with all of her sisters.
This entire Instagram story is such an adventure.
My favorite part is when Kardashian tries to get Thompson to tell her the code to unlock his phone. Thompson replied, "She knows it," and you can hear Khloé in the background start to say, "Oh, I know it." Clearly, some ground rules have been set in Koko's house.
While Kardashian is filming him getting ready to unblock her, she notices that he also blocked Khloé's best friends, Malika and Khadijah Haqq. Kardashian trolls him and says, "Wait, what was that?! You blocked Malika and Khadija also?!" She quickly pans to the twins and yells, "Wait, guys! Did you know he blocked you also?!" The twins nod yes, and then Thompson tries to defend himself by saying, "First and foremost, you guys unfollowed me first." Ah, Instagram. You have made all of our lives so complicated. Then things descend into madness (in a funny way), and Kardashian yells, "OK, OK, OK! This is a birthday party!!"
Then comes the video of Thompson actually unblocking her. Here are the receipts:
Kim Kardashian on Instagram
Kim Kardashian on Instagram
They good now!
Kardashian then posted a handful of photos of her, Kylie Jenner, Kendall Jenner, and Khloé Kardashian posing together.
Guys... I think they got hammered at this party and tried to make a Spice Girls tribute band.
Earlier that day, Kardashian posted an Instagram of her, Chicago West, Khloé, and True Thompson.
True's face in this photo is priceless. I feel like she has a resting "the f*ck is this?" face and I love it so much. Kardashian said in the caption,
Happy Birthday to one of my favorite souls on this planet! @khloekardashian This year you have shown strength like none other. I admire you for always following your heart. I love seeing you as a mom and can't wait for the years ahead. Let's celebrate you today! I love you to infinity!
After lots of drama and hard times this past spring, it's good to see Khloé K back in a happy place and back in L.A. with her family and daughter. HBD, Koko!