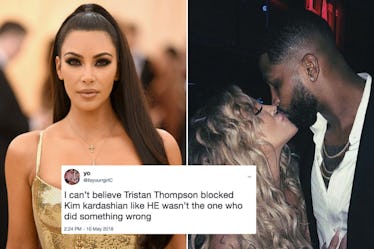 Kim Kardashian Just Revealed Tristan Thompson Blocked Her On Instagram & Yikes
Jason Kempin/Getty Images Entertainment/Getty Images; Instagram/TristanThompson
You may have guessed already that things aren't exactly peachy between Kim Kardashian and Khloé Kardashian's bae, Tristan Thompson, after he allegedly got caught smooching other women while Khloé was busy growing a baby in her womb. As Khloé's big sis, Kardashian is obviously pretty protective, straight-up admitting the whole situation is "so f*cked up" on Ellen. But overall, she's been keeping things pretty civil publicly for the sake of Khloe's new baby, True. But in a truly shocking twist, it's Thompson who just drew the line in the sand. That's right: Tristan Thompson blocked Kim Kardashian on Instagram.
Just in case you've been living under a rock with no Wi-Fi access for the past month, the entire world was shocked in early April when a video allegedly showing Thompson kissing another woman days before Khloé was set to give birth dropped on TMZ. Elite Daily reached out to Kardashian and Thompson's teams for comment on the reports but did not hear back by the time of publication.
When Ellen DeGeneres asked Kardashian if she liked Thompson before his trysts were uncovered, she got vaguely honest about her feelings, saying:
I feel like Khloé always like, dives into relationships and puts her whole heart into everything, I mean, she moved there [to Cleveland, Thompson's hometown]. And I've seen her be in a really tough situation before in her last relationship [with Lamar Odom] and so I think just the family gets so emotionally invested in whoever each other is with, like, we treat them like family and we give them everything—like, our whole soul. We treat them like they're a family member so we really were rooting for Khloé, and we still are.
Okay, so she definitely ran a mile in circles trying to avoid giving an answer to the actual question, but her answer was pretty positive considering the whole you-probably-cheated-on-my-sister factor, right?
Well, it seems Thompson may not be a big fan of Kardashian's honesty. When asked if there's still a part of her who roots for Khloé and Thompson during an interview on Live! with Kelly and Ryan, the reality star hinted that the NBA star blocked her on social media, saying:
Last time I went on TV and answered some questions about her, I got blocked on social media. And not from Khloé. No, no, no.
Wow. Could Thompson really have blocked Khloé's big sis? I mean, from where I'm standing, "it's so f*cked up" was the best response the Keeping Up With the Kardashians star could have possibly given. I mean, days after the footage claiming Thompson was making out with other women dropped, Us Weekly reported that Thompson was also allegedly using Instagram to message other girls while she was pregnant. Elite Daily reached out to Kardashian and Thompson's teams for comment on the report but did not hear back by the time of publication. Let's just say my response to that question would have been a lot more brutal if I was in Kardashian's place.
And the Twitterverse totally agrees.
Still, Kardashian remains the consummate supportive older sister — at least publicly.
Despite Thompson possibly blocking her, she's still rooting for Khloé and her disgraced bae to find peace and happiness.
"Khloé is so focused on her baby," Kardashian said on Live. "The baby is gorgeous. She's so happy. I'm always rooting for her, for love. I'm always rooting for families."
Now, Thompson's Instagram comments are getting spammed by angry fans expressing their shock over the very idea that he would block Kardashian for telling the truth after everything he's done. One commenter said, "Immature," while another just added a few (appropriate) poop emojis.
Considering Kardashian has over 111 million followers, I doubt she's losing any sleep over the fact that Thompson blocked her on the 'gram.
But honestly, what nerve?!