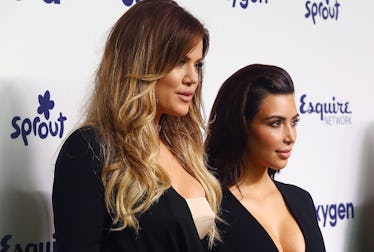 Kim K Just Revealed If Khloé Kardashian Plans To Stay In Cleveland & It's A Lot
Astrid Stawiarz/Getty Images Entertainment/Getty Images
Let's be real, no one has recovered or moved on from the Tristan Thompson reported cheating videos. The news that Khloé Kardashian's long-term boyfriend and baby's daddy was messing around on the side took everyone by surprise, including and especially Khloé. Her sister Kim recently gave the first on-the-record interview about the rumors, and honestly, she did a great job. Kim Kardashian's comments on Khloé Kardashian's plan to stay in Cleveland while she gets her feet underneath her are super supportive and remind us why this family is so amazing.
Surely, this article isn't the first you've read revealing Thompson cheated. In early April, videos were released of the 27-year-old professional basketball player reportedly kissing other women. Elite Daily reached out to Kardashian and Thompson's teams for comment on the reports but did not hear back by the time of publication. Barely days later, Khloé gave birth to her and Thompson's daughter, True, on Thursday, April 12. While she still hasn't commented on Thompson's actions, Khloé did post a sweet picture of pink balloons welcoming True to the world. The photo looks like it could be of an epic nursery in their shared Cleveland home.
Khloé wrote,
Our little girl, True Thompson, has completely stolen our hearts and we are overwhelmed with LOVE. Such a blessing to welcome this angel into the family! Mommy and Daddy loooooove you True!
OnThe Ellen Show, Khloé's big sister Kim officially went on the record about Thompson cheating. She told host Ellen DeGeneres, "It's so f*cked up."
When DeGeneres asked Kim directly if she liked Thompson before she found out about his behavior, Kim really took her time answering the question. She carefully said,
I feel like Khloé always like, dives into relationships and puts her whole heart into everything, I mean, she moved there [to Cleveland, Thompson's hometown]. And I've seen her be in a really tough situation before in her last relationship [with Lamar Odom] and so I think just the family gets so emotionally invested in whoever each other is with, like, we treat them like family and we give them everything—like, our whole soul. We treat them like they're a family member so we really were rooting for Khloé, and we still are, you know? She's so strong and she's doing the best that she can. It's a really sad situation all over.
Kim showed nothing but support for her little sister, explaining she understood Khloé was taking her time with her new baby to clear her head and figure her next moves out. Kim said, "I can just be supportive for Khloé. She's just really focused on the baby, and she's an amazing mom already in the few days that she's been a mom. She's the best mom."
DeGeneres asked if Kim knew if Khloé and Tristan are going to try to work things out, to which Kim responded, "You know, I think she's not thinking of anything. I think she just wants a clear head and just wants to be alone with her baby and figure that out."
As far as Khloé's decision to stay in Cleveland, she explained,
She's still there, yeah, she's still there. And, she wanted to have some alone time with the baby and you know, figure out what her next steps are. I think it must be so hard to have your heart broken and fall in love all in a day or two, all happening at the same time and I think she just needs some [space].
In the past, Kim mentioned Khloé's done a great job of keeping her personal issues private, but obviously doesn't have the luxury this time around.
Kim put it, "When [Khloé's] gone through really tough things in the past, she's always kept that from us and kind of dealt with it until it became public," adding, "So because this is not so private, I think she's just like, 'I need a minute to myself' so she's going to get through it. We're such a close family. She has such a good support system and all we can do is be there for her and the baby."
Agreed.
Khloé, your fans are sending you as much love as their little regular ol' civilian hearts can. Much love to you and baby True!
Check out the entire Gen Why series and other videos on Facebook and the Bustle app across Apple TV, Roku, and Amazon Fire TV.